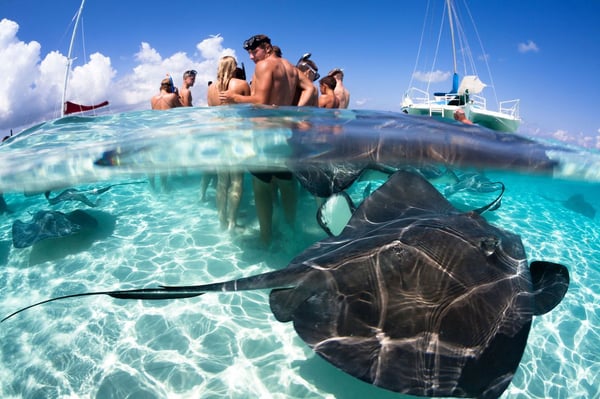 Cayman is a naturally beautiful habitat that fosters an incredibly biodiverse community of wild animals both in the water and on the shore. Humans aren't the only visitors and transplant residents who find their way to these beautiful islands!
The Link Between Marine Industry and Wildlife
Stingray City is one of the many unique attractions that makes Cayman such an interesting part of the world. This area of shallow waters in the North Sound sits inside our barrier reef, making for a placid and peaceful gathering place for all kinds of marine life. In particular, giant stingrays love to hang out here, and while the exact reason for that concentration of a specific species in this area isn't exactly clear, there are some theories.
Specifically, it's believed that the specific location of these shallows provides the perfect combination of features for rays. The calm waters in the sound make an ideal location for boats to dock, and this is a location where local fishermen once gathered en masse to clean the day's catch before heading into the harbour. The rays were attracted by an abundance of easy edibles falling into the water from the boats. In a sense, the rays are like pigeons that congregate in urban areas where they're fed—albeit infinitely more graceful and beautiful. The population is sustained largely through human intervention.
Cayman was once home to an abundant population of wild turtles, a population that was almost entirely wiped out due to the activities of humans involved in the maritime industry centuries ago. Turtles were an easy source of meat that could be kept fresh on a boat sailing from the Caribbean back to Europe, and sailors in the 17th and 18th centuries made regular use of this resource. Conservation efforts are in full swing today, and our turtle population is starting to bounce back. Cayman Turtle Farm is a great place for tourists to go to experience firsthand encounters with Cayman sea turtles in a safe environment. The turtle farm still operates as a livestock business, raising turtles for sale in order to protect the wild population from further harvest.
Attracting Tourism and Trade
The combination of these two attractions makes Cayman internationally popular with tourists, providing further incentive that sets the islands apart as an international destination. Tourists flock to Cayman because they know they'll get the best-possible experience of a tropical paradise. Not only is sun, sand and surf available in abundance, there are also plenty of family-friendly activities to make the trip worthwhile. Stingray City and Cayman Turtle Farm are just the tip of the proverbial iceberg. From iguanas on land to dolphins out at sea, there are many ways for visitors to enjoy the wealth of animal life that makes Cayman its home.
International businesses also flock to Cayman in increasing numbers thanks to the fantastic man-made resources available on the islands. From Cayman's innovative Special Economic Zone to a world-renowned financial services centre and the promise of political stability in paradise, it's easy to see why business leaders, like stingrays and tourists, see so much opportunity in this part of the Caribbean.
Photo Credits: Barcroft Media via Getty Images