The Cayman Enterprise City Vision
Our vision is to create world-class special economic zones and build a state-of-the-art campus which will bring new knowledge-based industries to the Cayman Islands. Cayman Enterprise City's (CEC) three offshore special economic zones, are attracting businesses in technology, media, commodities, and biotech as well as maritime and aviation services. These innovative global businesses are bringing new opportunities to Caymanians and are positively impacting Cayman's economy.
The award-winning development project is the first of its kind in the western hemisphere and provides a vibrant ecosystem for businesses and entrepreneurs, a world-class business centre, enviable office facilities, and state-of-the-art IT infrastructure. Over 250 start-ups, mid-sized enterprises, and brands are operating from four commercial zone buildings and are taking advantage of CEC's accelerated licensing renewals, Cayman's tax-neutrality, and our dynamic business environment. Cayman's special economic zones are proven platforms for innovation and rapid business growth, and our team is on a mission to continue to develop this vibrant community where global business thrives.
Cayman Enterprise City Breaks Ground on 'Home of Innovation'
2018 marked the first day of construction on the first phase of CEC's Master Planned Development Project. For decades to come, Cayman's award winning special economic zones will serve the needs of our community by diversifying our economy, by serving as a hub for innovation, and by providing a home to a vibrant community where global business thrives.
Meet the Senior Management Team
Charlie Kirkconnell - Chief Executive Officer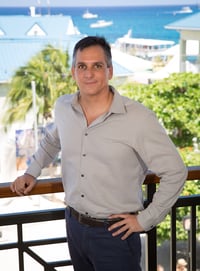 Charlie Kirkconnell is Cayman Enterprise City's chief executive officer and is responsible for leading the development and execution of the company's long-term strategy. His leadership role also entails being ultimately responsible for all day-to-day management decisions and for implementing the company's long and short-term plans.
Charlie holds an LLB (Hons) degree from the University of Liverpool and completed, with distinction, the Qualifying Examination of the Professional Practice Course at the Cayman Islands Law School in 2006. Charlie also holds a B.A. in International Relations with a Business Concentration from Lehigh University in Pennsylvania, USA (1993).
Immediately prior to joining CEC, Charlie was a member of Walkers' Corporate and International Finance Department in the Cayman Islands where he specialised in investment funds and advised on a range of general corporate matters. Prior to his work with Walker's, Charlie held various positions over a 12-year period with a group of Cayman Islands companies specialising in retail and wholesale distribution, including serving for four years as the managing director of the group.
Cindy O'Hara - Chief Development Officer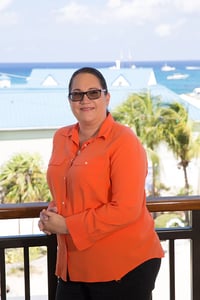 Caymanian Architect and entrepreneur, Ms. O'Hara's is the Chief Development Officer for Cayman Enterprise City. She oversees all aspects of the design and development of this 850,000 sq. ft. project, as well as overseeing all design and fit-out relating to the needs of clients in CEC's gateway buildings, which are being utilised while the main campus is being built.
Cindy is the owner and Managing Director of Design (Cayman) Limited, Cayman's leading sustainable architectural practice. Established in 2008, the firm has accomplished over 500,000 sq. ft. of Commercial, Civic and Residential projects including the recently completed Government Administration Building in George Town. Cindy has over 20 years' experience in the construction industry gained both in the Cayman Islands and internationally. With an exceptional foundation in sustainable architecture and project management, Cindy has gained an outstanding reputation within the region for her in depth knowledge and hands-on-expertise in designing hurricane resistant facilities. Always entrepreneurial, Cindy along with business partner Russell Linford developed separate business streams into successful companies, including Build (Cayman) Limited adding construction management, cost consulting and facilities management to the Caymanian construction industry.
Ben Connelly- Manager of Client Experience & Operations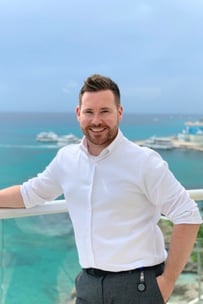 Ben Connelly is responsible for all aspects of special economic zone operations and client experiences including licensing, on-boarding and the ongoing care and satisfaction of Cayman Enterprise City community members. Ben holds a Bachelor of Arts with Distinction in Business and Enterprise from Edinburgh Napier University. With seven years' experience working within economic development across investment; internationalization; project management and business strategy, market analysis, as well as operational management.
Ben gained a tremendous amount of experience within the UK and global markets while working with Scottish Enterprise (the economic agency for Scotland) and their International arm – Scottish Development International. He focused on inward investment projects and managed key relationships with international clients; other key stakeholders in Scotland and in the UK and delivery partners, both private and public sector.
Ben joined CEC in August 2019. Ben brings a wealth of knowledge and experience to the CEC community and goes above and beyond to ensure every member has the right support.
Kaitlyn Elphinstone - Vice President of Marketing & Public Engagement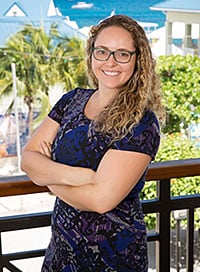 Kaitlyn Elphinstone is the Vice President of Marketing and Public Engagement at Cayman Enterprise City (CEC) and is responsible for developing and implementing the company's marketing, PR and lead generation strategies. Full stack marketer and visual artist, Kaitlyn brings a creative perspective to the CEC development project and its wider special economic zone community and plays an active role in the strategic development of client engagement programming. Kaitlyn also heads up local marketing and outreach initiatives including Enterprise Cayman - a partnership between the Cayman Islands Government and CEC which connects Caymanians with innovative career opportunities within Cayman's three special economic zones.
Kaitlyn holds a Bachelor of Arts (Hons.) from the University of Toronto and a Master of Arts with distinction in arts policy and management from the University of London. Previously employed at the National Gallery of the Cayman Islands, Kaitlyn was responsible for the organisation's marketing activities and successfully leveraged all aspects of NGCI operations to significantly increase public engagement, building NGCI into a nationally celebrated brand. Curious and always ready to learn, Kaitlyn is drawn to working with brilliant people, incredible technology, and organisations with big aspirations.