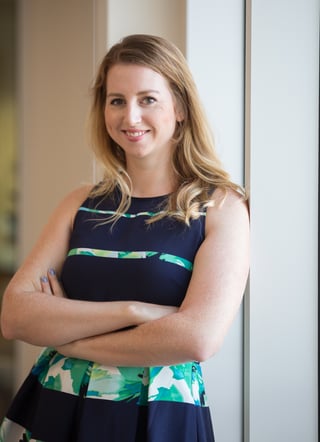 Inbound Marketing Manager with zone company Meticulosity SEZC
Just two short years ago, digital marketing guru Tanya Wigmore, boldly left Calgary in the height of a brutal winter to start a new life in Cayman with her husband, toddler and very young baby. At the time her family thought she was crazy, but on reflection Tanya says, "yes, crazy like a fox, I won't be shoveling snow this winter!
Tanya and her husband had been planning their escape for several years, wanting to 'leave winters behind' and even though Tanya owned her own highly successful digital marketing agency with a team of 8 people it wasn't enough to hold her back.
Her husband went back to school to get his CA, so he was well suited to make the jump and accept an offer at a firm in Cayman. Tanya sold her company, packed up and made the scary move in January 2016.
Tanya stumbled across friend of a friend in Cayman and mentioned she was thinking of going back to work, and they introduced her to the President & CEO of E-Commerce and digital marketing agency Meticulosity SEZC.
Meticulosity SEZC, a rapidly expanding zone company, thought finding such an experienced digital marketer in Cayman was a Godsend and quickly snapped Tanya up to take the role of Inbound Marketing Manager. As a seasoned digital marketing professional with a decade of experience Tanya has done an excellent job at Meticulosity and since been promoted.
"Way back when I first started in digital marketing, it truly was the glory days. It was really easy to get clients on to the first page of Google and you could spend 1 cent per click on an AdWords keyword. How Google has evolved!" laughs Tanya.
Tanya now manages a team in Cayman and works with the South Africa team as well. She acts as Account Manager on all client projects and campaigns. She manages client relations with their enviable list of brand clients around the world, and develops marketing strategies, builds complex campaigns and implements them, on time and within budget. She hasn't sat on her laurels and believes one should continually educate oneself, and is now also a certified HubSpot specialist, Google AdWords partner and is rolling out the new specialised and blockchain marketing portfolio.
Tanya is a CEC community member who has fully embraced life in Cayman and become part of the fabric community by volunteering her time and providing knowledge-transfer to young Caymanians. She sits on the Board of the Cayman Islands Marketing Professionals Association (CIMPA), and is the local Chairman of Search Engine Marketing Professionals Organisation (SEMPO Cities) for Grand Cayman. She loves volunteering her time to deliver digital marketing seminars, workshops, and training to help young Caymanian marketers develop their skills and get practical advice from an international experienced digital marketer.
Working in a busy international agency and being a hands-on mum of two kids under the age of 5, Tanya doesn't have much spare time these days. But, when she can enjoy a few stolen moments, she loves yoga, to read, play with her kids and spend time in the beautiful Caribbean Sea.
When asked about her most exciting adventure in life (other than moving to Cayman) she said that one of the highlights was when they packed up their kids and took a month-long road trip around the western United States enjoying camping in several national parks, including Yellow Stone, the Grand Canyon and the ancient redwoods in California and Oregon. Tanya said it was magical – to be able to disconnect from technology and spend time at the breathtaking places, get back to nature and feel almost insignificant and part of the ecosystem.
When asked if she had any advice for young Caymanians wanting to get into web development or digital marketing, here's what Tanya had to say: "Just do it and don't be afraid to break things. Learning how to fix your campaigns and your websites is how you get better."
If you would like to connect with Tanya you can reach her on LinkedIn here.
Hilary McKenzie-Cahill is a Cayman Enterprise City staff alumni and former VP of Marketing and Business Development. Hilary is a serial entrepreneur and a powerhouse of energy, passionate about everything she undertakes.