Cayman's Home of Innovation
Cayman Enterprise City's (CEC) special economic zones, which was recently dubbed the best way to move your business to the Caribbean, was established in 2011 and in a short while has attracted hundreds companies from over 20 countries. A direct flight away from Miami, New York, Toronto, and even London, CEC enables companies from across the globe to easily and cost-effectively set up and operate offshore with a genuine physical presence. CEC enables you to have a genuine staffed office in a stable offshore jurisdiction, where you can legitimately generate an income which is 100% exempt from local corporate tax.
We hear from prospective clients every day with businesses in the US, Canada, UK and across the globe, that their businesses are becoming less profitable and can no longer thrive, because they are burdened by increasing, onerous regulation, reporting and filing requirements. Complying to new regulations is not only time consuming and expensive, but takes the focus off the efficiency running your business. The great news is, that in the Cayman Islands, we have a very pro-business Government and you will be operating in an environment that is appropriately regulated, so you don't have to adhere to onerous and burdensome regulatory reporting and filing and can focus on what's important – making your business as successful as it can be.
If you are researching other offshore jurisdictions, they simply can't compete with the Cayman Islands or match our offering. Unique to the Caribbean, CEC offers a welcoming and nurturing environment for new and growing companies to establish a physical presence within three offshore special economic zones (SEZs) which include – Cayman Tech City, Cayman Commodities & Derivatives City, and Cayman Maritime & Aviation City.
If you are planning to structure your company for an industry sale or exit, Cayman also enjoys 100% exemption from capital gains tax. With the convenience of the East Coast time zone, safe and secure first-world infrastructure and an unparalleled lifestyle, CEC attracts businesses of all sizes and verticals from global industries.
Does your business qualify?
COMMODITIES AND DERIVATIVES
The production of commodities
Activities relating directly or indirectly to commodities, derivatives, futures, and options
Commodities and derivatives fund management and advisory services
Security and commodity contracts brokerage or proprietary trading of own account, including facilitating and supporting such businesses
The provision of electronic marketplace for the purpose of facilitating the buying and selling of commodities, derivatives, futures and options products including commodities contracts, futures commodity contracts, and commodity options
SCIENCE AND TECHNOLOGY
Research and experimental development in nature sciences and bio engineering - including the development of biomedical devices and pharmaceuticals
Provision of professional, scientific, and technical skills levels are required - for example, life and natural sciences technology related consulting and analysis services
Engineering design and manufacturing of special-purpose machinery and components of natural sciences and environmental technology sectors
MEDIA
Electronic publishing, including the development and digital publication of e-books and digital magazines
The development if digital libraries and catalogs
The development of digital publication of music, film, TV new media, leisure and entertainment and news, including programming and broadcasting
Advertising and marketing, market research and information services
INTERNET
Telecommunications and related service activities - this includes activities involving wired, wireless, satellite technologies to transmit voice, sound or video.

Computer programming, consultancy, and related services
Data processing, hosting and related activities, and web portals
Engineering design and manufacturing of special-purpose machinery and components for the ICT sector.
MARITIME & AVIATION
Shipping and Maritime Sector
Ship owners/operators/managers/brokers & financiers
Maritime research and data management
Head offices
Freight trading and brokerage business
Crew salaries and benefits processing companies
Bunker brokerage
Computer programming, consultancy and related services
Management consulting
Specialized services to the maritime sector
Aviation Sector
Airlines: Commercial air transport operation
Aerospace - related service
Manufacturing and management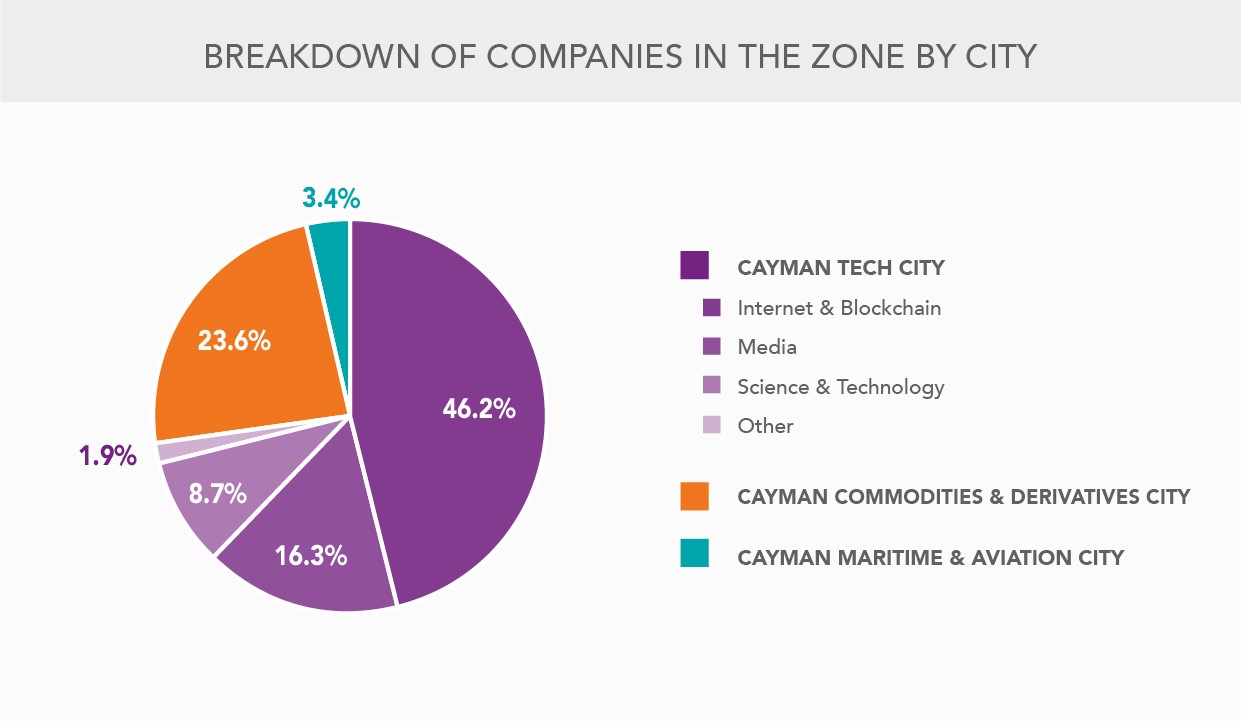 Getting Started
This Caribbean business hub could be exactly what you need to grow your business globally and protect your IP from within a tax-neutral, appropriately regulated jurisdiction. Cayman Enterprise City's award winning special economic zones offer accelerated offshore set-up with personalised service. Let us look after you so you can focus on the big picture.
If your business falls into one of the categories listed above, then your company should qualify for one of our special economic zones which include, Cayman Tech City, Cayman Commodities and Derivatives City, and Cayman Maritime and Aviation City.
What we'll need to know:
The intended activities of your company, so we can reference the

Special Economic Zone Law

to ensure your business can be licensed
How many staff members you would like to place in your Cayman Islands office
The amount of office space your business requires
Your company's technology requirement
The offshore company formation process is quick and efficient and can be done remotely from anywhere in the world, subject to meeting due diligence requirements. The expedited business licensing regime can have companies fully established within 4-6 weeks, including renewable five-year work/residency visas for staff which can be processed in as little as five days. A minimum capital investment is not required and permits, visas, trade certificates, and turn-key office solutions, are conveniently bundled into affordable serviced packages and delivered by Cayman Enterprise City via a streamlined process, which removes bureaucratic red tape.
How it works
Our team will introduce you to a Cayman Islands corporate services provider which is regulated by the Cayman Islands Monetary Authority (CIMA), to set up a Special Economic Zone Company (SEZC) for you. They will outline their full list of due diligence requirements.
You then complete an online application from anywhere in the world. Our Client Experience Team helps you through the application process, review to ensure accuracy, and submit your application to the

Special Economic Zone Authority (SEZA).
One submitted your application (SEZA trade certification) will be

processed within

5 business days.
Once your company's trade certificate has been approved, then 5-year work/residency visas, called SEZ Trade Certificates, for your staff will be submitted and processed by SEZA withing 5 working days. (Subject to a clean police clearance from your current country of residence, a medical and other requirements.)
While applications are being processed our Operations Team is designing, finishing, and setting up your office space(s) to meet your requirements.
Businesses can be licensed and have staff legally working in your Cayman Islands office withing 4-6 weeks.
We ensure that businesses and their staff are connected with the right professionals in every industry. From doctors to educators to top real-estate agents, and accountants, we have excellent relationships with local service providers who can help you at every step of the way.
After your business has established a physical presence, our team remains in supportive role and is in constant contact to help companies grow. Packages are fully scaleable, which means staff and office space can be added at any time without limitations.
View Our Brochures for More Information