Software developers have a built-in business advantage in that they can likely produce, sell and service their product from nearly anywhere in the world. There are many reasons to take an 'offshore' route and some locations have made it their business to provide an attractive location not only to work but to locate the legal headquarters of your business.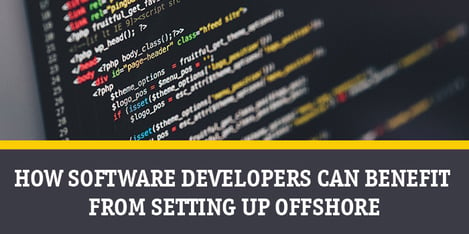 One such location is the Cayman Islands. To start, regulations on businesses are minimal. In the Cayman Islands there is limited reporting, accounting or auditing for Cayman registered companies. On top of that you only need one person to create a company. As long as that person can act as both shareholder and director, that is all that is needed. Finally, there is no minimum amount of revenue needed to register a business in the islands.
Of course, one of the most attractive elements of doing business in the Caymans is the virtually tax free environment, but that is just one of many.
There is also no restriction on the foreign ownership of property or land. The only taxes that must be when purchasing a property are a "stamp duty" tax, real estate tax (at the time of sale) and a fee on mortgages below a certain monetary value. Whether you decided to locate in the Islands or not, the lack of direct taxes should be a big incentive to any location.
While the Cayman Islands is a small country with a focused economy, many well-known law firms and top global accounting firms are there to support the operation of your business. These companies are well known in their field and are taking advantage of everything the Cayman Islands has to offer them, most notably the perfect island lifestyle.
Setting up a company in the Cayman Islands with a physical business office there will prove to be one of the best decisions you could make. There are more benefits than downfalls to creating an offshore empire. It is the perfect incubator for first time entrepreneurs and business owners to take advantage of the Cayman Islands paradise.
Hilary McKenzie-Cahill is a Cayman Enterprise City staff alumni and former VP of Marketing and Business Development. Hilary is a serial entrepreneur and a powerhouse of energy, passionate about everything she undertakes.