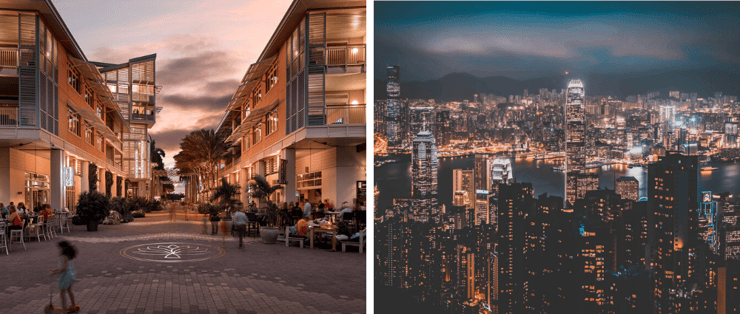 Pictured left: Camana Bay, Grand Cayman (cr. Marriott Bonvoy Traveler) and right: Soho, Hong Kong (cr. Shuja-Official)
The Cayman Islands and Hong Kong are both major economic hubs and have seen a multitude of international businesses move to their shores. Companies in industries ranging from law and finance, shipping and commodities, to tech and blockchain all have their eyes on the two global business centres.
There are several key differences in business and lifestyle between the two countries, especially with changing legislation, current social, economic, and political climates. This article further examines the two environments and analyses which may be more beneficial for your business.
Low Complexity Jurisdiction and Data/IP Protection
The Cayman Islands currently remain the least complex jurisdiction in the world. Cayman boasts a healthy financial industry, flourishing economy and stable government as a British Overseas Territory. It is clear Cayman is actively dedicated to maintaining its attractively low level of legal and financial complexity. This flourishing business environment is one of the many advantages of moving your business to the Cayman Islands.
Presently, companies that do business in Hong Kong could be impacted by the negative effects of the US-China relationship and changes in legislation. This is the biggest risk for businesses who currently operate in the state and those looking to move their business there. It could be harder for businesses to import technology, avoid tariffs and protect their data and intellectual property.
Recent trends indicate, that more and more Hong Kong expats are buying property in their home countries and in offshore markets as they eye leaving city for good.
The Cayman Islands are committed to working hard to ensure that the jurisdiction maintains a pro-business approach, is well regulated, and transparent, making it an ideal location for foreign businesses to operate. Businesses who wish to move to Cayman need not worry about protecting their data and IP. In 2019, the Cayman Islands introduced a new data protection law which indicated the importance placed on personal data in the islands. The law came into effect in September of that year. The new regulations illustrated the need to protect against the misuse of personal data in both the public and private sectors. Cayman also has comprehensive regulations and legislation pertaining to IP protection and virtual assets.
Deputy Ombudsman within the Information Rights Division, Jan Liebaers, stated that "privacy is a basic human right, enshrined in the Cayman Islands Constitution. In practical terms, it is an opportunity for businesses to set themselves apart from the competition by showing their customers they do not take them or their data for granted."
The importance placed on protecting your business's data and IP creates a more secure business environment and further adds to the multitude of benefits that you receive when you set up a physical presence in the Cayman Islands.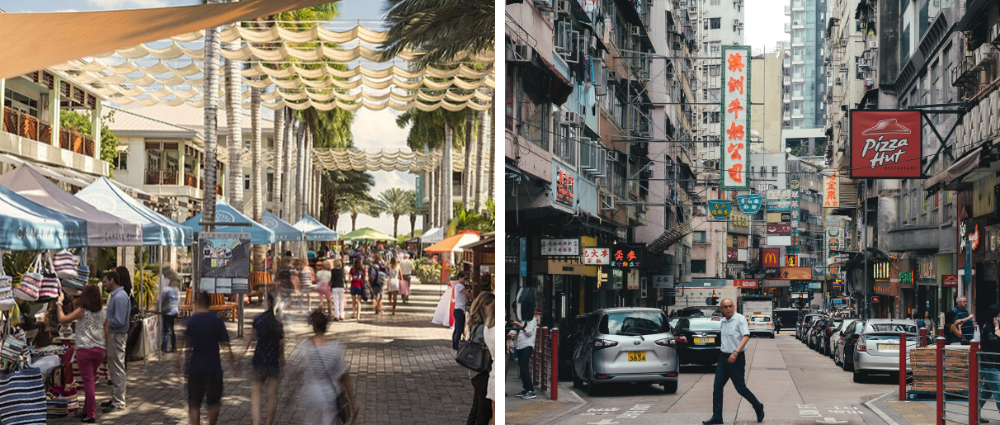 Pictured left: Camana Bay, Grand Cayman (cr. Visit Cayman Islands) and right: Soho, Hong Kong (cr. David Clarke)
The Chosen Domicile for Companies Listing on the Hong Kong Stock Exchange (HKSE)
According to an article written by Asia Business Law Journal, Cayman is considered the vehicle of choice for companies listing on the Hong Kong Stock Exchange (HKSE). The Cayman Islands does have its own stock exchange, which is much smaller than Hong Kong's. Yet, the small jurisdiction is considered the better and more convenient place to incorporate businesses for listing on the HKSE. The article states that in 2017, nearly 800 Cayman companies were listed on the Main Board. Cayman companies represented well over 40% of the total, far outnumbering every other domicile.
We see this as a growing trend. Asia's wealthiest man, Li Ka-shing, chairman of blue chips Cheung Kong (Holdings) and Hutchison Whampoa, had already chosen Cayman as his domicile of choice to set up his new firms in 2015. Such cases further demonstrate why Cayman is considered the perfect domicile for offshore business.
Stronger, Stable Currency and Lower Cost of Housing
The Cayman Islands dollar (KYD) is still amongst the world's top 20 currencies and has maintained its place as the 6th strongest currency in the world for many years. The Cayman Islands dollar does not fluctuate in global foreign exchange markets. Whereas many global currencies can fluctuate depending on the political or economic conditions in each country, the Cayman dollar remains pegged to the US dollar at a rate of 1 to 1.20. Setting up your business in Cayman gives you access to a strong and very stable currency. The Hong Kong dollar was pegged to the US dollar at a rate of 7.8 to 1, but as of 2020, Hong Kong may have to consider resetting its US dollar peg.
In terms of cost of living, Cayman is slightly more expensive than Hong Kong. Presently living in Hong Kong is 26% cheaper than the Cayman Islands. However, rent in Cayman is almost 50% cheaper than in Hong Kong. Other costs in Cayman such as groceries and transportation rank as slightly more expensive than in Hong Kong. However, unlike Hong Kong, Cayman is genuinely tax-free, levying zero tax on businesses or individuals. This environment results in earning a higher income that allows you to afford the necessities and enjoy a comfortably high standard of living.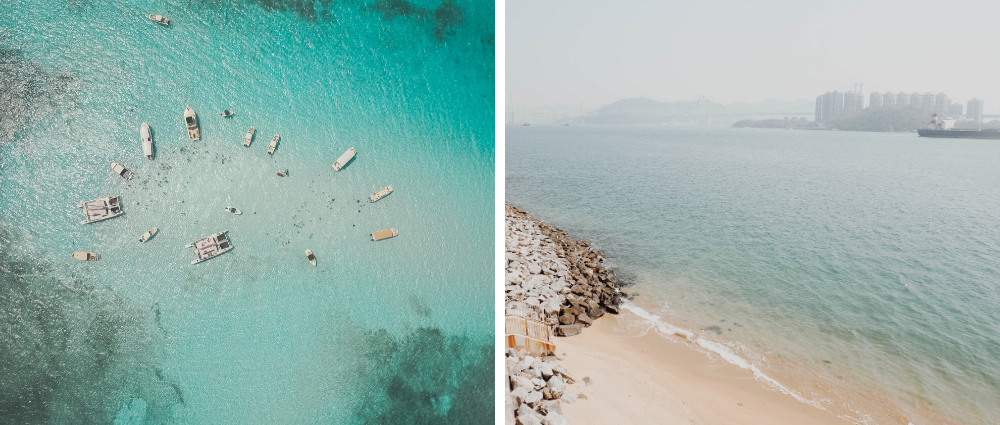 Pictured left: Stingray City, Grand Cayman (cr. Dan Legend) and right: Beach, Hong Kong (cr. Katie Manning)
Easy Relocation to Grow Your Business with Ease
Cayman Enterprise City's special economic zones represent the largest innovation ecosystem in the region and includes some of the world's most innovative companies, everything from start-ups to globally established publicly listed companies.
At Cayman Enterprise City, making the move to offshore business has never been easier and quicker. Cayman Enterprise City (CEC) is an award-winning development project which consists of three special economic zones (SEZs) that are focused on attracting knowledge-based and specialised-service businesses to set up a physical presence in the Cayman Islands. Businesses that choose to move to the Cayman Islands benefit from Cayman's tax-free environment and other jurisdictional benefits. Making the move through CEC means having the hassle away taken away for you. We provide affordable serviced packages via a streamlined process that remove bureaucratic red tape.
Culturally Diverse Community
For more than 50 years, the Cayman Islands has seen many from abroad move to its shores to call these stunning islands home. We see this number continue to grow and currently, there are over 130 different nationalities residing in these small islands. In fact, around 50% of the resident population in the Cayman Islands are expatriates.
What this creates is a vibrant, culturally diverse community unlike anywhere else in the Caribbean. A wide range of nationalities in the Cayman Islands also means businesses have access to a globalised workforce and unique, distinct talent.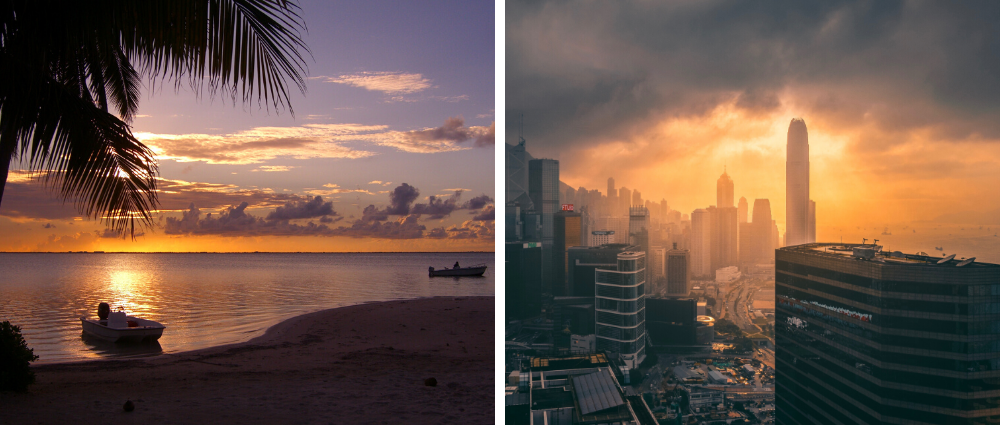 Pictured left: Sunset, Grand Cayman (cr. Dan Legend) and right: Soho, Hong Kong (cr. Jason Wong)
Modern Island Living with Access to the Americas and More
The Cayman Islands is one of the most modernised island nations in the Caribbean, while still maintaining the coveted, relaxed island lifestyle. It has been said that Cayman boasts a standard of living comparable to that of Switzerland with unmistakable island charm. Cayman's population is significantly less compared to that of Hong Kong, making for a more spacious and tranquil environment.
Living and working in the Cayman Islands grants you access to many gateway cities. Grand Cayman is only a short one hour's flight from Miami and three hours from New York City. There are multiple daily direct flights to many major gateway cities in the US like Boston and Dallas, international flights to Toronto and London, and Caribbean destinations like Havana and Nassau. Also, though Cayman is so culturally diverse, the primary spoken language is English. This makes communications during the moving process much smoother.
If you'd like to explore options for your business and find out more about living and working in the Cayman Islands, get in touch with us today. We have over 250 businesses within Cayman Enterprise City who are incredibly diverse in industry and size that we can put you in touch with as we consult with you on your needs.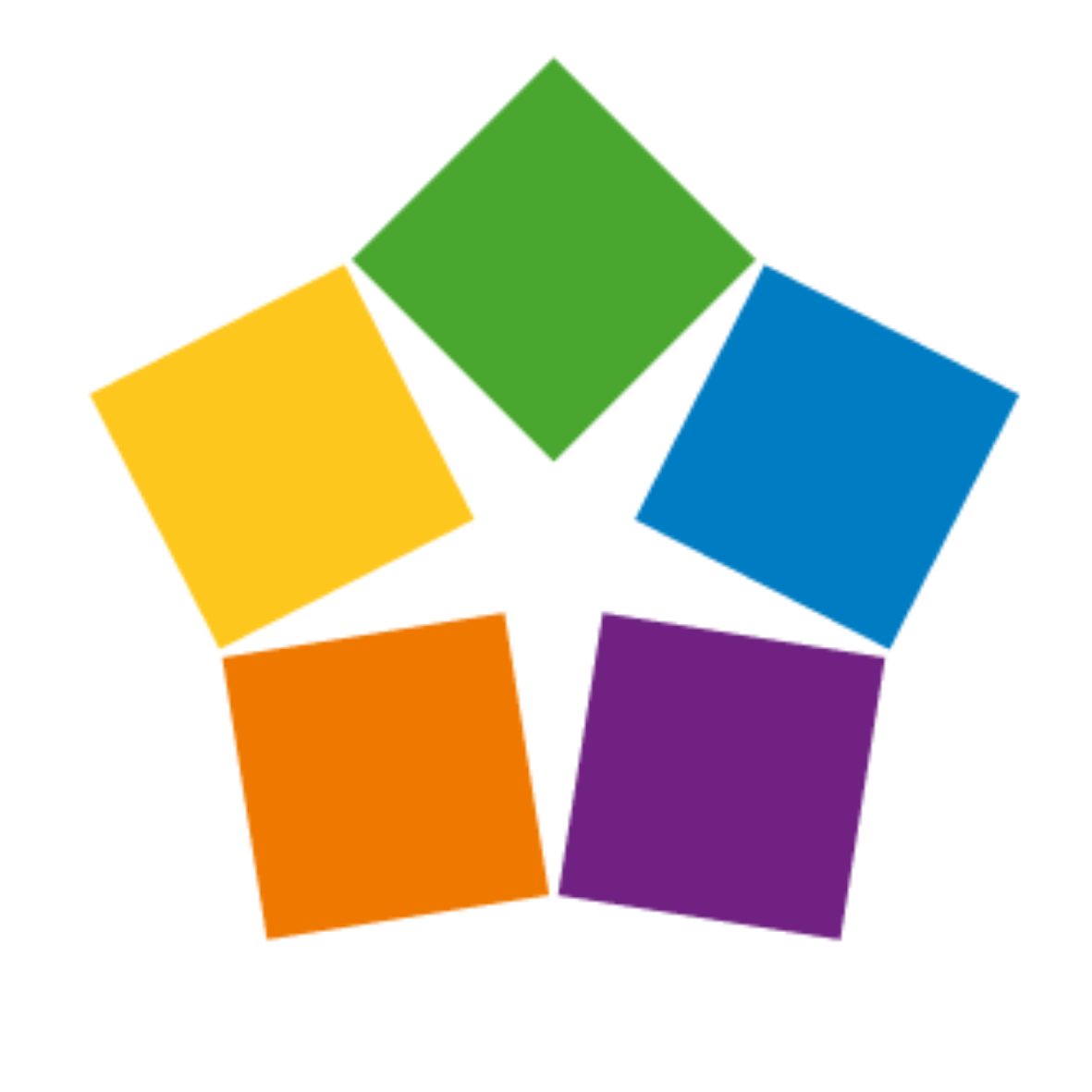 Home to a vibrant community where global business thrives.