The appeal of expatriate life can be hard to ignore, but far-flung locales that make excellent vacation destinations don't always make the best long-term residences. These three logistical factors can make or break a location's practicality as a base of international business operations.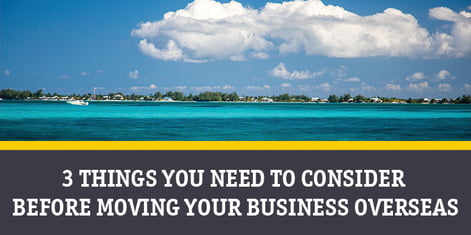 Location is key for international business. Sure, a speedy Internet connection like the one you'll enjoy in Cayman Enterprise City can close a lot of distance gaps, but even the most powerful computer can't overcome geographical realities such as time zones and travel distance for important clients. You want to be able to stay connected to powerful contacts in North America and Europe, and fortunately, Grand Cayman's Caribbean location minimizes concern over geography.
Flying from Miami to Grand Cayman takes about an hour, and flights from New York City are just about two hours longer. As an added bonus, Cayman is in the Eastern Time Zone, so you can keep normal business hours and stay in touch with all of your most important contacts. If your business deals with the UK or European markets, the good news is that Grand Cayman as frequent direct flights on British Airways to London, the gateway to Europe.
Moving overseas is always a big change, but the transition is made much easier when you don't have to make big changes to understand the local culture. Factors such as recognizable languages and a familiar values system mean you'll adjust to your overseas life in no time at all. The Cayman Islands are a British Overseas Territory, and the nation's modern culture clearly reflects this colonial influence. English is the official language of the Cayman Islands, and you'll have no problem communicating with local residents.
There are plenty of tropical locales that have gorgeous resorts for visitors with few infrastructural amenities for residents. Not so in the Cayman Islands. Healthcare on Grand Cayman is world-class, and there are a number of excellent schools on the island as well.
There are plenty of elegant, comfortable housing opportunities to take advantage of, many of which use a charming island design style and there are no restrictions on expats purchasing real estate in Cayman. Cottages, bungalows, and beach-front condos abound, and you can even hire one of the local architectural firms to design a bespoke tropical dream home just for you. You'll enjoy the best of island life in a setting that embraces modern infrastructure and amenities. You can even find gourmet and organic food from one of the specialty food supermarkets or farmer's markets on Grand Cayman.