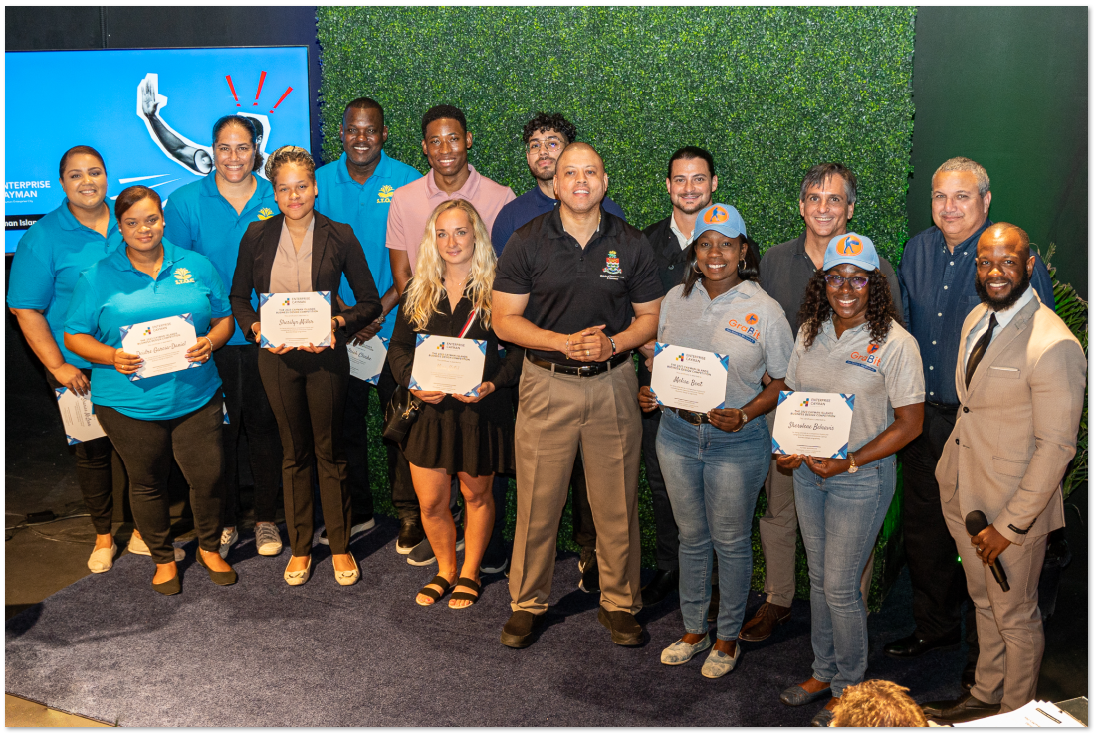 Substitute Teachers of Cayman (STOC) take home the Cayman Islands Business Design Competition's "Project of the Year".
George Town, Grand Cayman, Cayman Islands (11 April 2023) – The 2023 Cayman Islands Business Design Competition "Pitch Day" took place Saturday, 1 April 2023 at the Harquail Studio Theatre and viewers from across the globe where invited to tune-in via livestream to watch Cayman's entrepreneurs compete for over USD $10K in cash prizes and wraparound business services.
Produced by Enterprise Cayman and sponsored by Cayman Enterprise City (CEC), the annual Business Design Competition invites Cayman's entrepreneurs to showcase their new and innovative business ideas. This year's competitors were shortlisted from an impressive cohort of 25 submissions. Programme finalists, behind seven new business ventures, took part in an intensive series of workshops, project advisor meetings, networking events, and a "Pitch Day" where they presented their finals projects to a panel of judges, which included Rodney Alison Founder of Synergy Technology Engineering Limited SEZC, Rich Dyer Co-Founder of Massive Media, Woody Foster Managing Director of Foster's Food Fair, Joshua Hecht Venture Investor at Avalanche SEZC, and Polly Pickering Managing Director of eShore.
"We were absolutely blown away by the fresh ideas produced and the talented individuals that presented final projects during the 'Pitch Day'," said Alyssa Manderson, Programmes and Events Coordinator at Enterprise Cayman. "We are excited to watch these projects evolve and can't wait to see what these individuals will accomplish."
The initiative was launched in 2021, on the heels of the COVID-19 pandemic, to help creative individuals and entrepreneurs with access to key resources to identify and validate new ideas and opportunities to commercialise. "The Business Design Competition's main purpose is to strengthen Cayman's supportive innovation ecosystem," said Charlie Kirkconnell, CEO of CEC and Director of Enterprise Cayman. "The competition fosters knowledge-sharing amongst projects and professionals and is part of a vibrant platform designed to enable innovators and entrepreneurs to connect, share experiences and insight, and ultimately thrive!"
2023 Competition Awards & Winners:
The People's Choice Award was presented to Substitute Teachers of Cayman (STOC), a platform for substitute teachers and schools by Sharice McLean, Deidre Garcia-Daniel, Maggie Ebanks, and Kirkpatrick Clarke. This was the first year that we invited members of the public to vote on a "People's Choice Award" which was presented by the Honourable Minister for Investment, Innovation and Social Development, Mr. Andre Ebanks.
The Innovation Award for an innovative business design that is inspiring, new and/or unconventional was presented to Aaron Santamaria for his project QuickQuip, a new technology driven project offering pre-written replies and helping to streamline communications. Santamaria has received a USD $2,000 cash prize and wraparound business services, sponsored by Avalanche.
The Community Impact Award for a business design that makes a difference in our local and/or global communities was presented to Steve Toms for his project Island Pet Co., locally made, sustainable fresh pet products. Toms has received a USD $2,000 cash prize and wraparound business services, sponsored by eShore.

The Project of the Year

for a business design that shines above and beyond competition expectations was presented to

Sharice McLean, Deidre Garcia-Daniel, Maggie Ebanks, and Kirkpatrick Clarke for their project Substitute Teachers of Cayman (STOC), a platform for substitute teachers and schools. The STOC team took home the

grand prize of USD $10,000 plus wraparound business services, sponsored by

Cayman Enterprise City.
All finalists received a business support "Prize Pack" valued at over CI $1,500, which includes access to professional meeting spaces, legal advisory sessions, marketing support, reduced rate of incorporation, access to CEC networking events, a 90% HubSpot discount, as well as scholarships to attend Code/Cyber courses.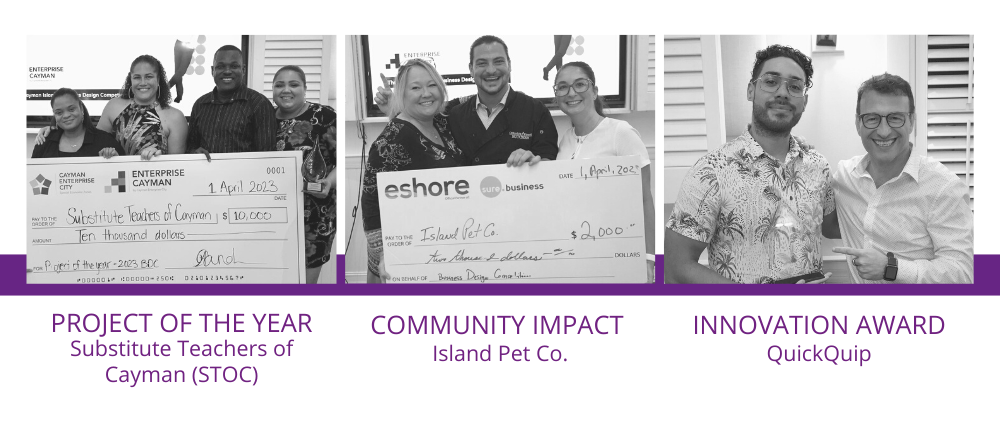 2023 Competition Finalists:
GraBit Cayman - A one-stop shot delivery app by Melisa Bent and Sherolene Belnavis
Caymania - A portal providing career logistics by Sherilyn Miller
Locky - An easy opening system to make bags and backpacks safe by Nina Ketiss
Syntelligence AI - Artificial Intelligence tools helping to streamline businesses by Kevin Ramirez
2023 Programme Partners: Cayman Enterprise City, Avalanche, eShore, Silver Palm Studios, Massive Media, HSM, Code Fellows, and HubSpot.
"It was an incredible experience that pushed me beyond my comfort zone and motivated me to turn my ideas into reality. Without this event, my ideas would have remained just dreams. During the competition, I was able to improve my skills in analytics, market research, idea validation, presentation, and public speaking. The workshops were especially valuable in helping me to grow in these areas, and the guest speakers were truly inspirational. I am also thrilled to have the opportunity to be able to participate in the business incubator program that is being offered, which will provide me with the necessary fuel to keep my momentum going and help foster my ideas to grow in a meaningful way. Thank you, Enterprise Cayman, for igniting the entrepreneurial spark in Cayman! I am eager to see what future events may bring and the opportunities that lie ahead," said Steve Toms from Island Pet Co. winner of the "Community Impact Award".
"The Business Design Competition is a lot of fun. The workshops and resources provided are great, you get to meet lots of interesting people, and the competition pushes you outside your comfort zone. Although the resources are helpful, they won't make the business for you; it is 100% dependent on the amount of effort you put in. If you think you have a good idea, apply," said Aaron Santamaria from QuickQuip winner of the "Innovation Award".
"Team STOC is immensely grateful to Enterprise Cayman for providing us with the necessary resources and support to emerge victorious in this competition. Being able to learn from established business professionals was an amazing opportunity that we would not have had otherwise, so we are grateful for your unwavering commitment to our team and the other participants. Thank you for believing in our project and for investing in our potential to achieve greatness," said Sharice McLean from STOC winners of the "Project of the Year".
In 2022, following on the success of the Cayman Islands Business Design Competition, Enterprise Cayman's programming for entrepreneurs was expanded to include an incubator programme and Angel Investor Network to support individuals who are working hard to prepare their projects for the critical step of taking on initial investors. "I would like to encourage everyone who competed in the Business Design Competition, as well as anyone else that might have a validated business idea, to apply to our Launch Labs incubator," said Kirkconnell. "We invite you to take advantage of Enterprise Cayman's resources and supportive business network – we're here to help you get one step closer to turning your vision into reality."
The Launch Labs Incubator Programme is now open for submissions. To apply please visit www.enterprisecayman.ky. For enquiries email innovate@enterprisecayman.ky.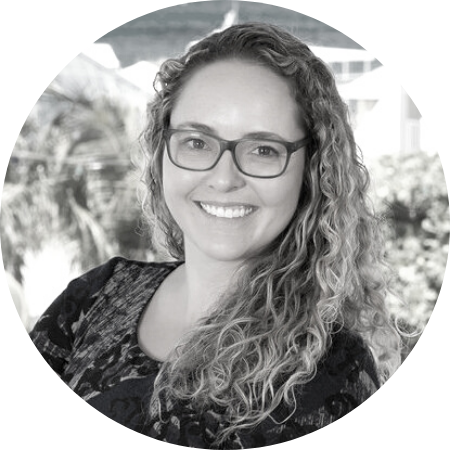 Kaitlyn Elphinstone is the Chief Marketing Officer at Cayman Enterprise City (CEC) — responsible for driving new opportunities, championing innovation, engaging members of the public, and leading the company's marketing and brand strategies in her enterprise-wide focused role.