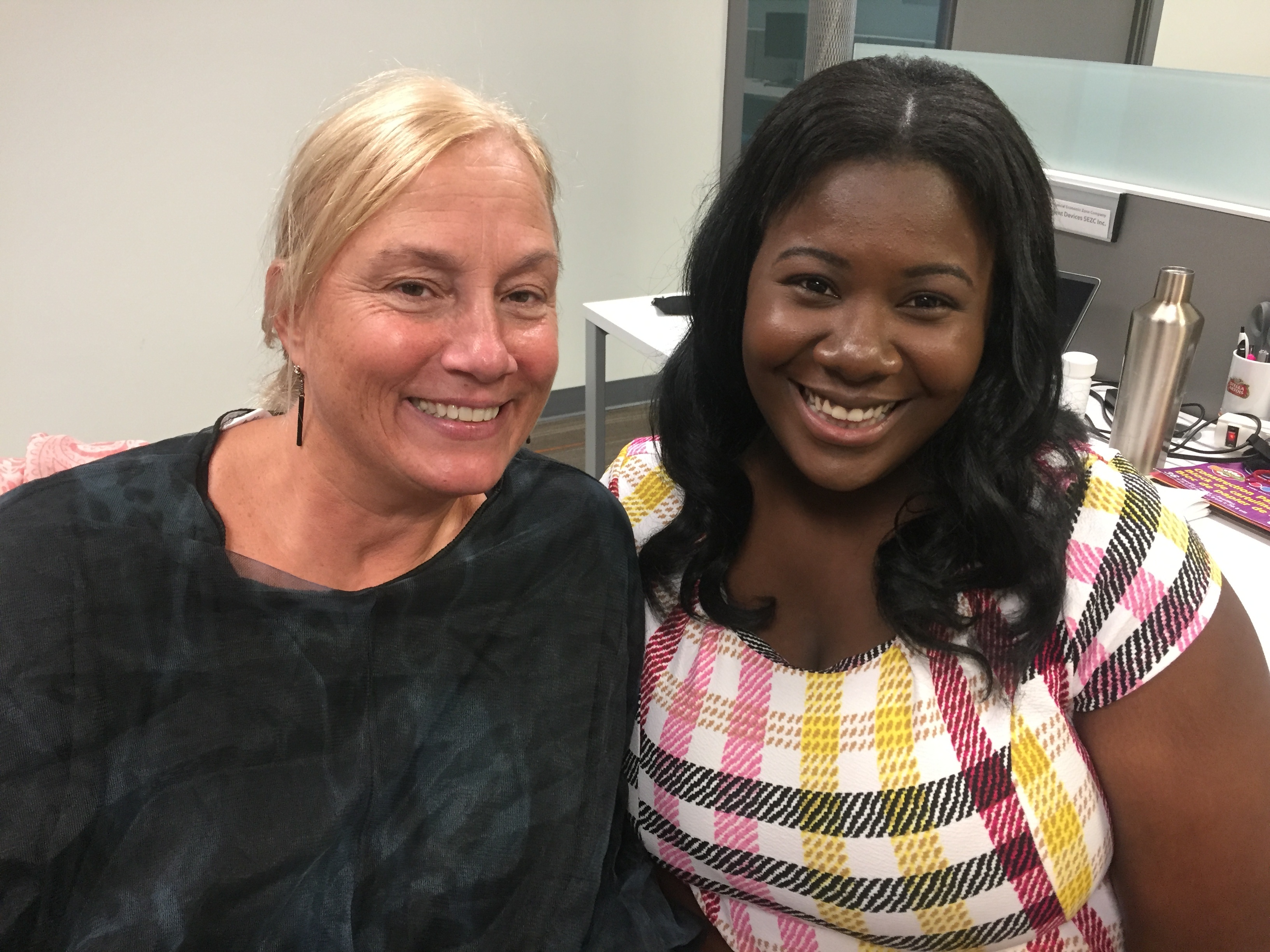 This month CEC had the incredible opportunity to interview the latest Intelligent Devices SEZC Inc. (IDI) Intern Monique Barrett. A charming young student educated at the University College of the Cayman Islands.
Monique first joined CEC this past July as she partook in our "Summer in The City" internship programme. An educational opportunity to help grow our young community in the Cayman Islands. Fast forward five months, and here we are sitting beside Monique and her mentor Joanna Watters, the General Manager of Intelligent Devices.
As we make ourselves comfortable in our seats it was very noticeable how connected Monique and Joanna were. They interacted with each other as if they've worked together for years. Monique spoke with such confidence, while Joanna listened intensively. The energy was magnetic, so with no further to do we began the interview.
CEC: Tell us, what brought you to apply for "Summer in The City" Programme?
MB: It's a bit of a funny story, my friend was the one that got the email from CEC. However, at the time there was a lot of stuff going on in her life, so she decided to place it in the back-burner. Upon talking to her over the phone one day she brought up the "Summer in The City" email and she discussed how great of an opportunity it would be for me.
One day as a I sat around my home, I decided to apply. I thought to myself what's the harm in trying?
I quickly filled out all the paperwork and sent it off. I thought nothing of it, and never in a million years would I have imagined that at this very moment in my life I would have set off a catalyst to the rest of my educational career.
Couple days passed by, and before I knew it, I had been chosen as one of the lucky Intern's to partake in "Summer in The City". I was Ecstatic!
CEC: Express to us, what has the experience been like?
MB: I did not know what to expect, but I knew that I had to come in with an open mind. It was a surreal eye opener, what I thought I knew then has all changed now. For example, my attention to detail. Before my internship I would have thought my attention to detail was great. However, Mrs. Watters has taught me that attention to detail extends so far from just grammar. Its the way you interact with someone, how you dress, how you conduct a presentation, how you approach a problem, how you answer back even the simplest email. It's about every pixel that helps build the bigger picture. This experience has not only helped me grow as an individual but as a young professional with exceptional people's skills. I have taken skills that I can now integrate comfortably into any new work space.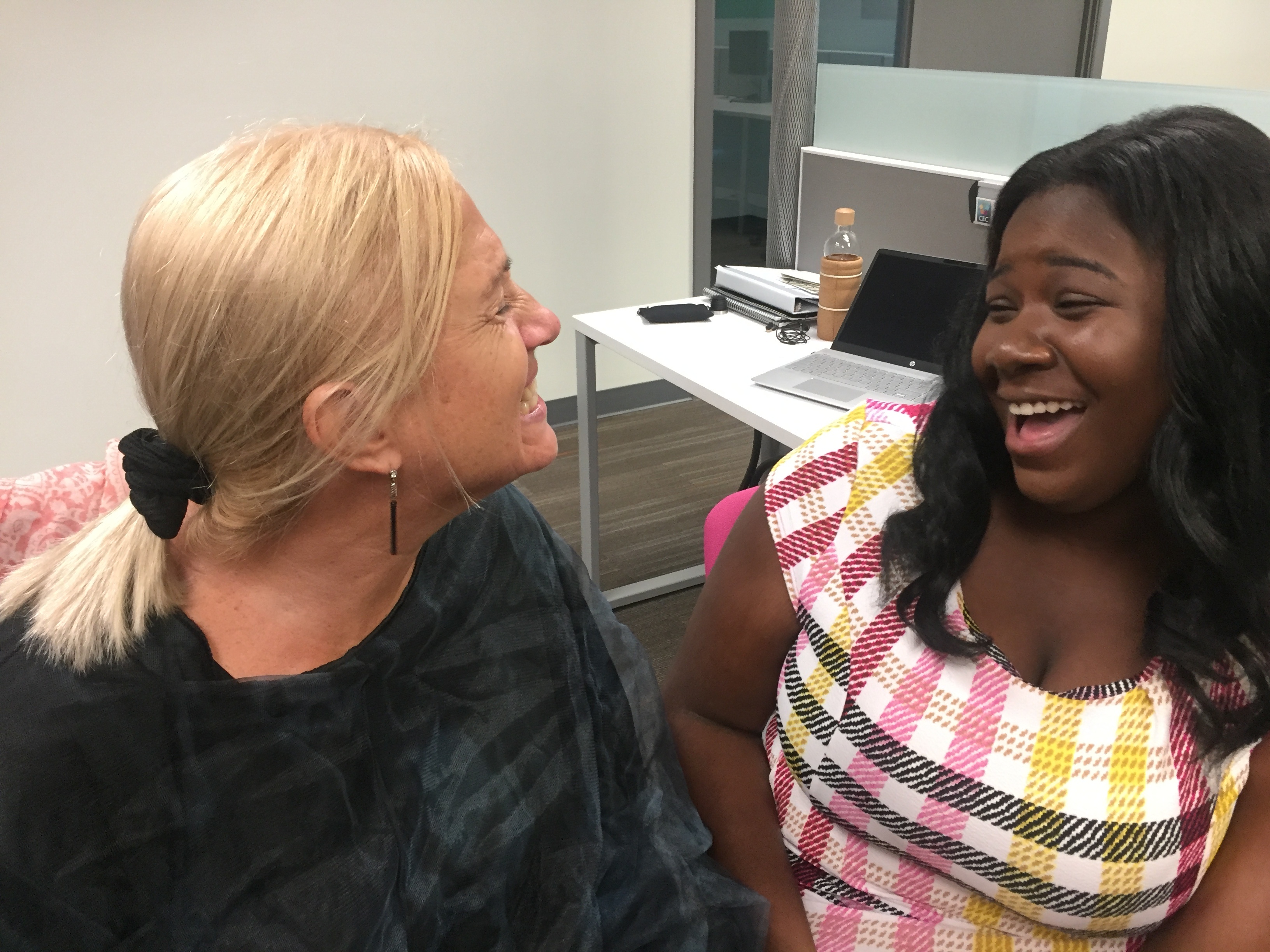 Joanna Watters, General Manager of Intelligent Devices and Monique Barrett during the interview
CEC: Guide us through your day to day work, and tell us about how you're implementing the skills that you've learnt?
MB: Working in the Medical field and my lovely mentor Mrs. Watters has taught me a lot of things, most importantly that no day is the same. Each day brings something different whether that is working on presentations for a prospective partner, researching a variety of medicines to even completing ongoing projects, that can include research, meetings and even took over some work for Mrs. Watters while she was away.
Although I would say most of my day to day consists of research. This research serves as proof of performance to our product. I never really understood how truly important research is until now. It even has become my favorite thing to do!
All these tasks have helped me become proactive, independent, and provided me with the ability to take initiative, which are all perfect quality traits to pick up in an internship.
CEC: How has it been working amongst the CEC Community?
MB: I was not expecting to love it so much, in fact out of all the internships this one has stood out above the rest. I would say its the energy of the work environment here at CEC. Everyone is so open, friendly and easy to talk to. Even the people who are not part of my company take the time to explain to me what they do and are genuinely intrigued to what I do.
At this time, I would describe myself as a young sponge, and having people who are willing to take the time and teach you something is incredible. Working with the Intelligent Devices SEZC Inc team and CEC has made me grow and learn so much. It has not been one of those internships that you just sit and twiddle your thumbs. I have fully emerged myself into the everyday corporate life. I'm working with people who are eager to teach and most of all inspiring to work for.
CEC: Where will we see Monique in five years time?
MB: In five years time I would hope to be in medical school. Deep into my essays and course work. My ideal job would be something in research. I feel that people now a days don't do the correct due diligence. I want to do good, and good to me means acquiring accurate data that will make a difference in someone's life.
CEC: What has been your most memorable experience during your internship placement?
MB: One day I was asked by Mrs. Watters to help do extensive research, that would later be presented to a prospecting client. Once I completed everything, I submitted it to Mrs. Watters, She quickly turned it around and said, "You will be the one presenting your work." I was in utter shock, but I can tell you one thing. Since that day, I have completely come out of my shell, I have not only left more knowledgeable but as a more confident individual.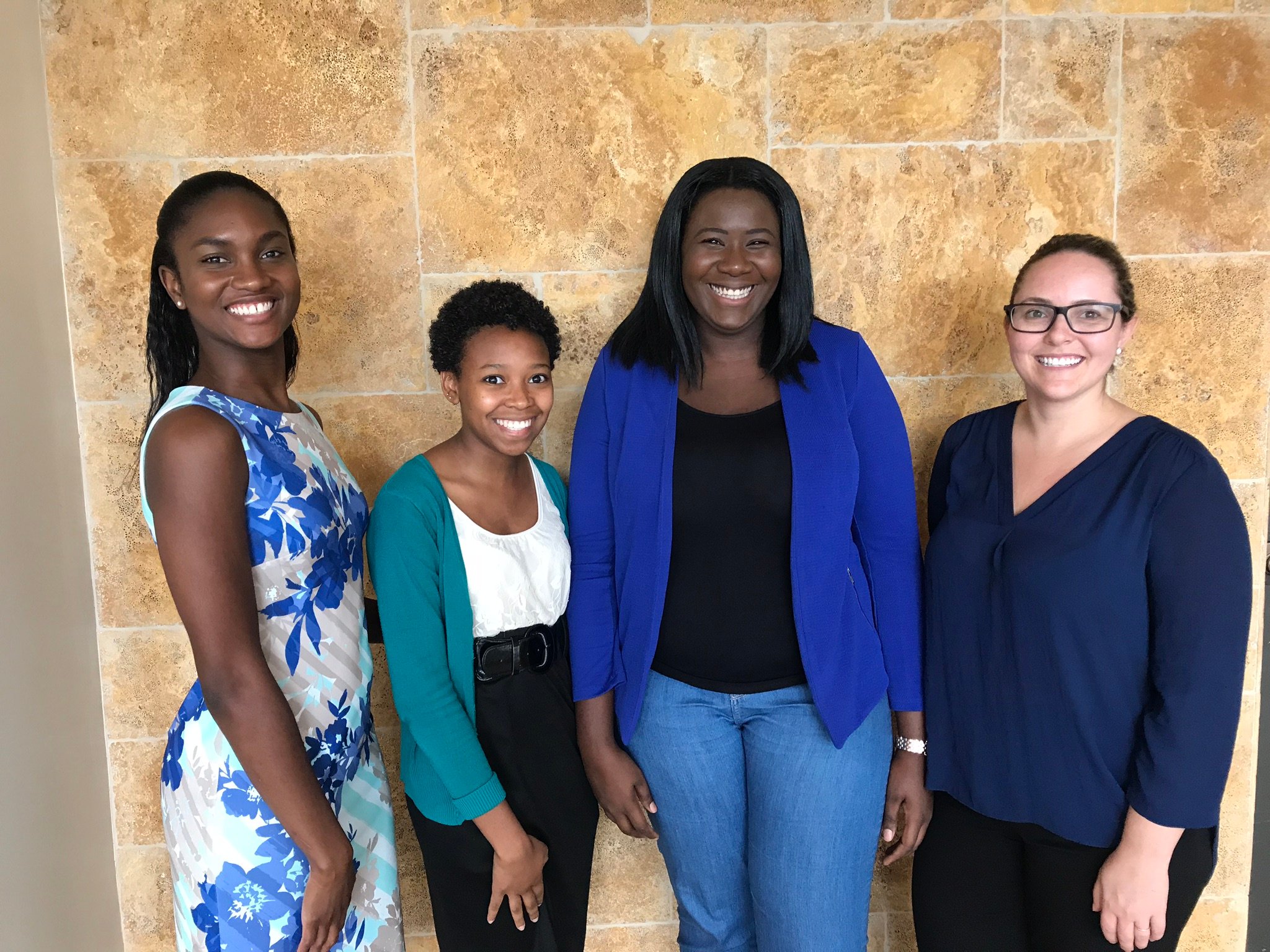 Kimberly Grant, Courtney Thomas, and Monique Barrett "Summer in the City" Internship students standing beside Kaitlyn Elphinstone, Marketing Manager at CEC
CEC: Would you recommend the "Summer in the City" internship programme to friends and what advice would you give to a "Summer in the City" newbie?
MB: Absolutely, be open minded, take each step as a learning process and just do it! This is the time to be courageous, there's always time to educate yourself and no better time than now, with such an amazing programme to facilitate your goals.
CEC: Flipping the interview to Mrs. J, what have you enjoyed most about having Monique as part of the team?
Mrs. J: Throughout the internship placement, Monique was able to apply the skills she learnt at school. Such as her writing skills, research and sharpening her communications skills.
Monique was able to learn tremendous amount of industry knowledge about the medical field and the importance of maintaining client relationships.
However, it's not only about what she has learnt but what I have gained from having her work here.
She provided me with great feedback, that one can only get from a young mind. She brought a fresh perspective for not only myself but for many clients that we don't necessarily pick up on when we are so deep into our work.
Not only did she help ease the work, but she brought an energy into this workspace, and I can speak for the team when I say that we will all miss her greatly.
Here at CEC we wish Monique the best as she embarks on her first year of medical school on January 2019.
Interested in the "Summer in the City" internship programme? Registrations for 2019 are now open. Click here to apply, deadline is 17th March 2019.
About the "Summer in the City" Internship programme.
The "Summer in the City" internship programme is open to Caymanians between the ages of 18-25 and lasts for one to two months during the summer months. Areas of placement include: Internet Technology, Science & Technology, Commodities & Derivatives, Maritime & Aviation Services, Client Services & Business Operations, Marketing & Communications, Urban Planning & Development. For more information email Bianca at B.Mora@caymanenterprisecity.com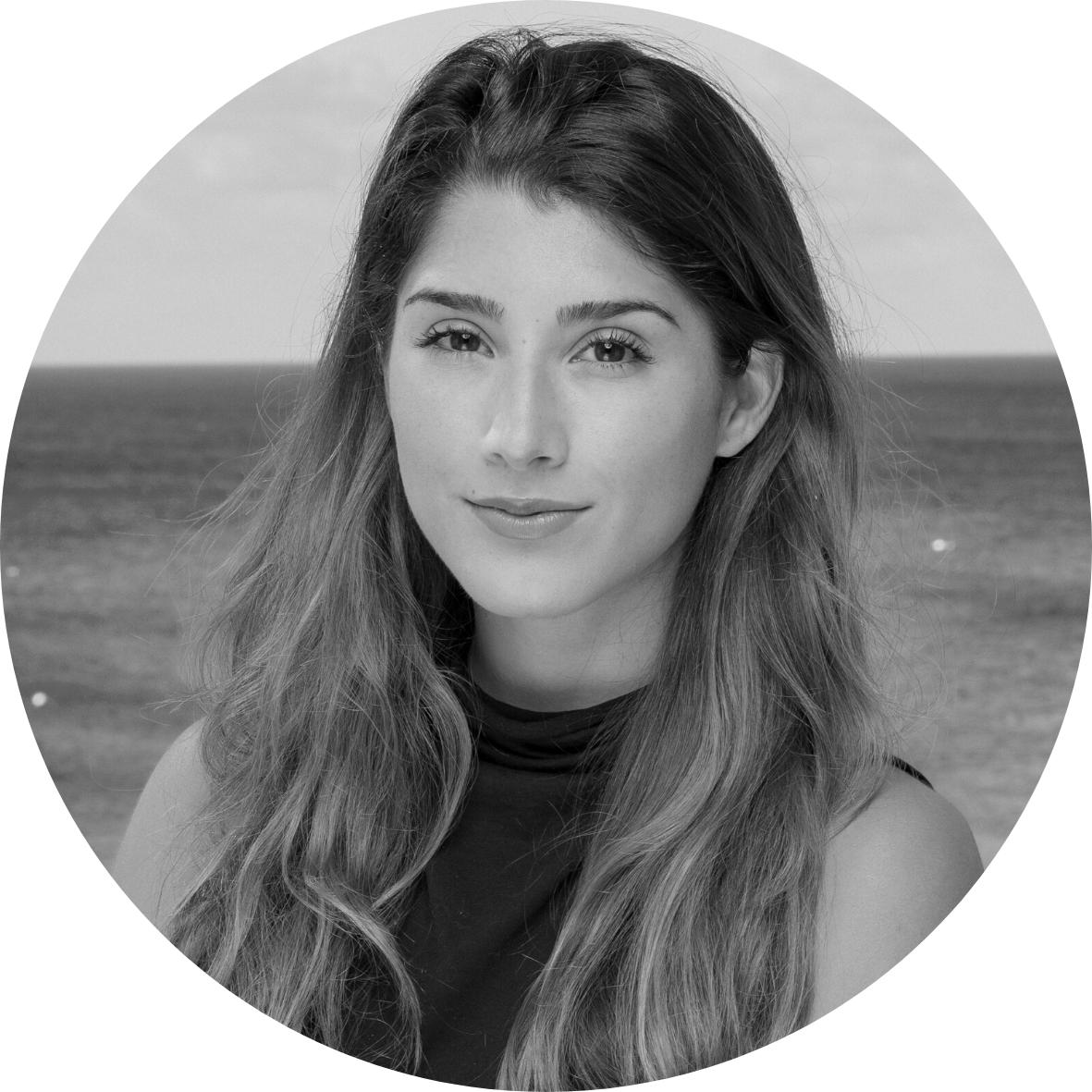 Bianca is CEC's Senior Marketing Manager and Head of Creative who supports the delivery of CEC's wider marketing plans and objectives by creatively engaging members of the public, by supporting the development of CEC's community initiatives. A social media guru and creative global Marketer who has worked in London, Sydney and Vancouver, Bianca joins CEC with a host of innovative ideas and exiting ways to engage CEC's Community and members of the public.