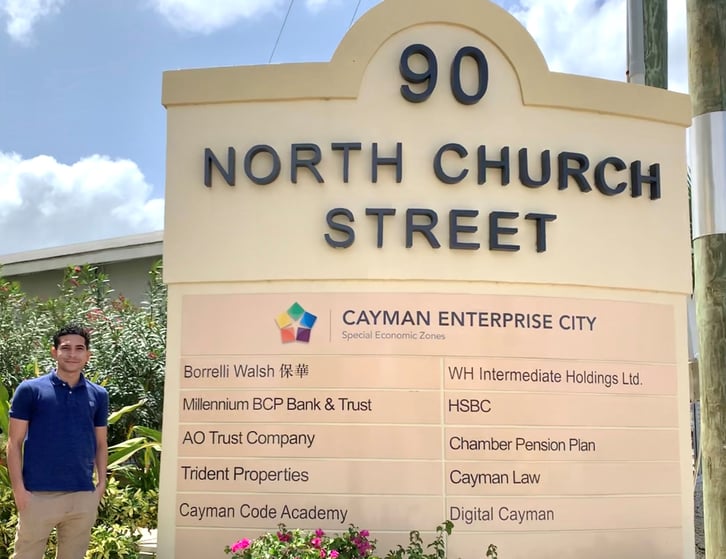 Introducing Caymanian born Cordell Andrade. Cordell first heard of the Cayman Code Academy (CCA) through researching available courses on computer science. Upon being inspired by the countless job opportunities in Software Engineering he decided to take the leap! After two months of studying at the CCA, he now has three job interviews lined up for his choosing. Read his motivation for learning to code, and his advice for other aspiring Caymanians looking for a career in technology.

Hi Cordell, thanks for sharing your story with us. Before we dive into the interview, tell us a bit about yourself – where do you come from and what do you enjoy doing?
My name is Cordell, I'm from West Bay, Grand Cayman. I'm an athletic individual who is very much into my sports. I used to be on the Cayman National Team for football (soccer) and was constantly taking up new sports. While my love for sports will never die, I've always been determined to pursue a career in computer science. However, before the CCA started there was no other route available in Cayman that directly delivered a competitive software developer curriculum that was internationally recognised and due to this, I reverted to the Cayman comfort… become a lawyer. While I was figuring out that law school may not be for everyone, my passion for becoming a Software Engineer grew…
You studied at the Cayman Code Academy to make a recent career pivot. What were you doing before the program, and what prompted your desire to change careers?
Before studying with the CCA, I worked at a local law firm, Maples Global. Once I decided law was not for me, I decided to dip my toes into another well-known industry known to Cayman… The Tourism Industry! So, on I went to briefly work as a tour guide/ boat captain. I spent my days picking up guest and taking them to various tourist attractions around the island.
After COVID hit, the tourism route was not looking too good, so I decided to take up coding as a career. Giving my long-standing interest in computers, as well as enjoying typical computer geek movies which inspired me. I also would like to give a shot out to my uncle, as he was my motivation for starting to code. He would always talk to me about computers and show me how to fix them at a young age. After finishing Code 201, I will be focusing on landing a job in an IT department. I look forward to placing my newfound coding skillset into one of the job opportunities I've been offered when I come out of the programme.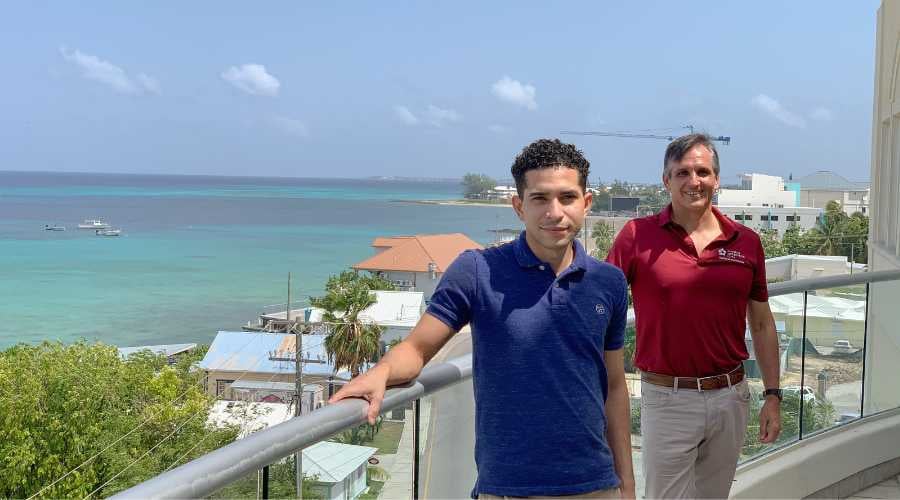 Cordell Andrade, CCA student (left) pictured with Charlie Kirkconnell, CEO of Cayman Enterprise City (right) - Cordell recently received the Cayman Enterprise City scholarship to complete his education in the 201 programme - Foundations of Software Development
What was the most helpful skill that you learned at the CCA that you will start to use in your work?
The most helpful skill that I have learnt from the CCA would be to always push one step further. Not every answer will be right there, you will have to work hard and do your research… and yes that means a lot of Googling, but in the end that extra push is what will set you apart from the rest. So, I would have to say that's the best life skill set that I will be taking with me moving forward.
The CCA instructors want to see us succeed in the real world and I think showing us the importance of research and sourcing out different ways to get to the answer is very important.
What advice do you give future students that are interested to join?
The advice I would give future students is to start researching coding and see the various career paths you can choose from. By doing your research, you will not only have a head start in coding knowledge but you will also have a clear understanding of your end goal and the instructors will be able to further customise your learning to what you want to become! I would also like to tell future students that when things get rough don't give up…keep practicing because everyone is a beginner at some point and that beginner had to do a lot of hard work to become an expert.
How has it been learning from the CCA?
It has been a pleasure learning with the CCA, they are extremely helpful, and the content provided wasn't too hard to understand as they try to make everything beginner friendly and the people, I've been in contact with have been super helpful. As mentioned, they are also very active in helping me find work after my course is done and for that I am grateful.
I understand that in order to take the 200-level course you applied for a sponsorship with Cayman Enterprise City. How was that experience and what were your initial thoughts when you found out you were chosen!?
When I applied for the 201-course scholarship I did not expect to be chosen. I was shocked and excited when I found out I had been a successful recipient. This scholarship has opened a massive door for me and I'm excited to make the most out of this opportunity.
Anything else you would like to add?
Yes – thank you to the team behind the CCA for providing a platform to learn code in the Cayman Islands. Because of you I get the opportunity to study in the country that I was raised in while getting international experience to peruse the career of my dreams.

Thanks, Cordell!

Feeling inspired by Cordells story? Spend a day with us online to find out if a career in tech is right for you! Register Today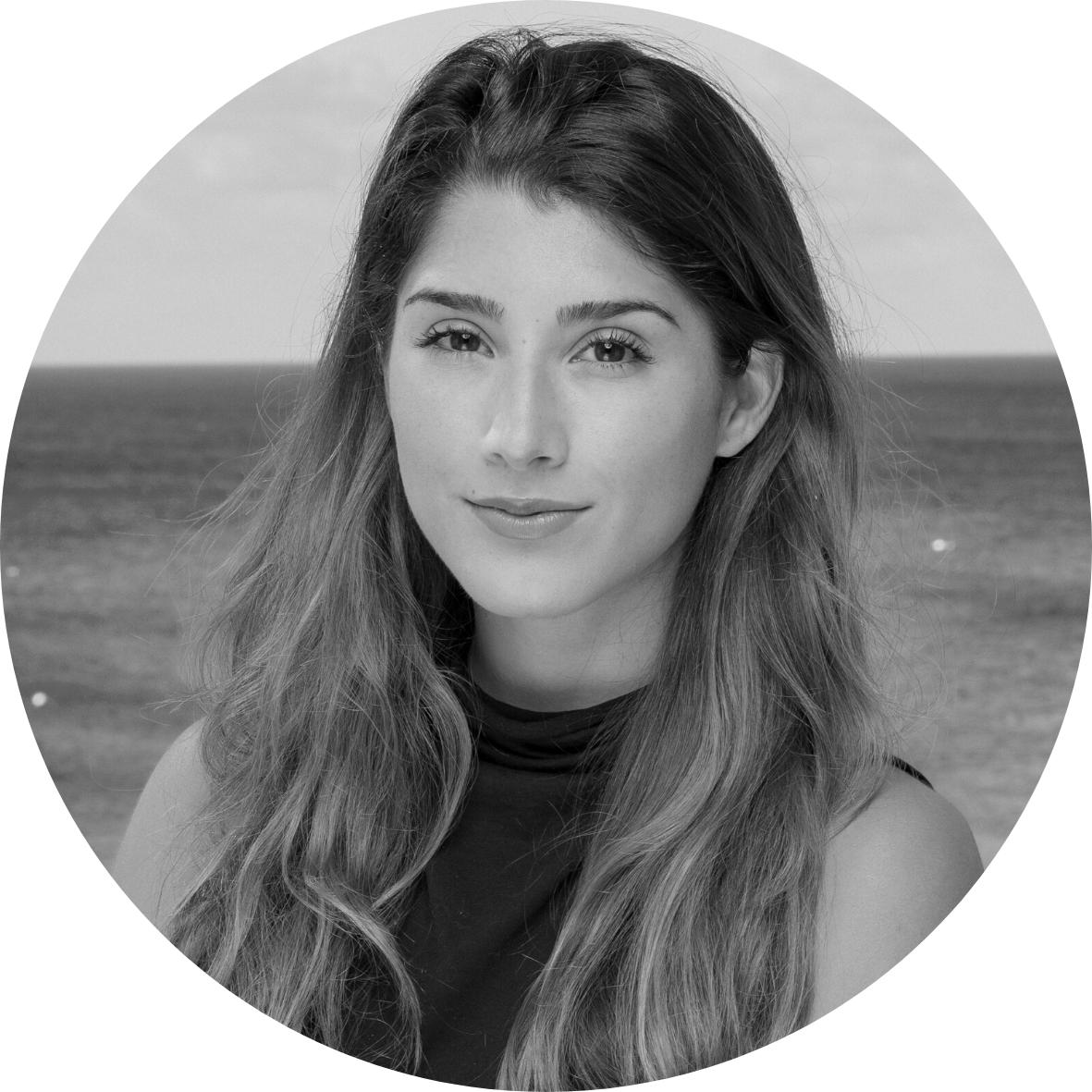 Bianca is CEC's Senior Marketing Manager and Head of Creative who supports the delivery of CEC's wider marketing plans and objectives by creatively engaging members of the public, by supporting the development of CEC's community initiatives. A social media guru and creative global Marketer who has worked in London, Sydney and Vancouver, Bianca joins CEC with a host of innovative ideas and exiting ways to engage CEC's Community and members of the public.