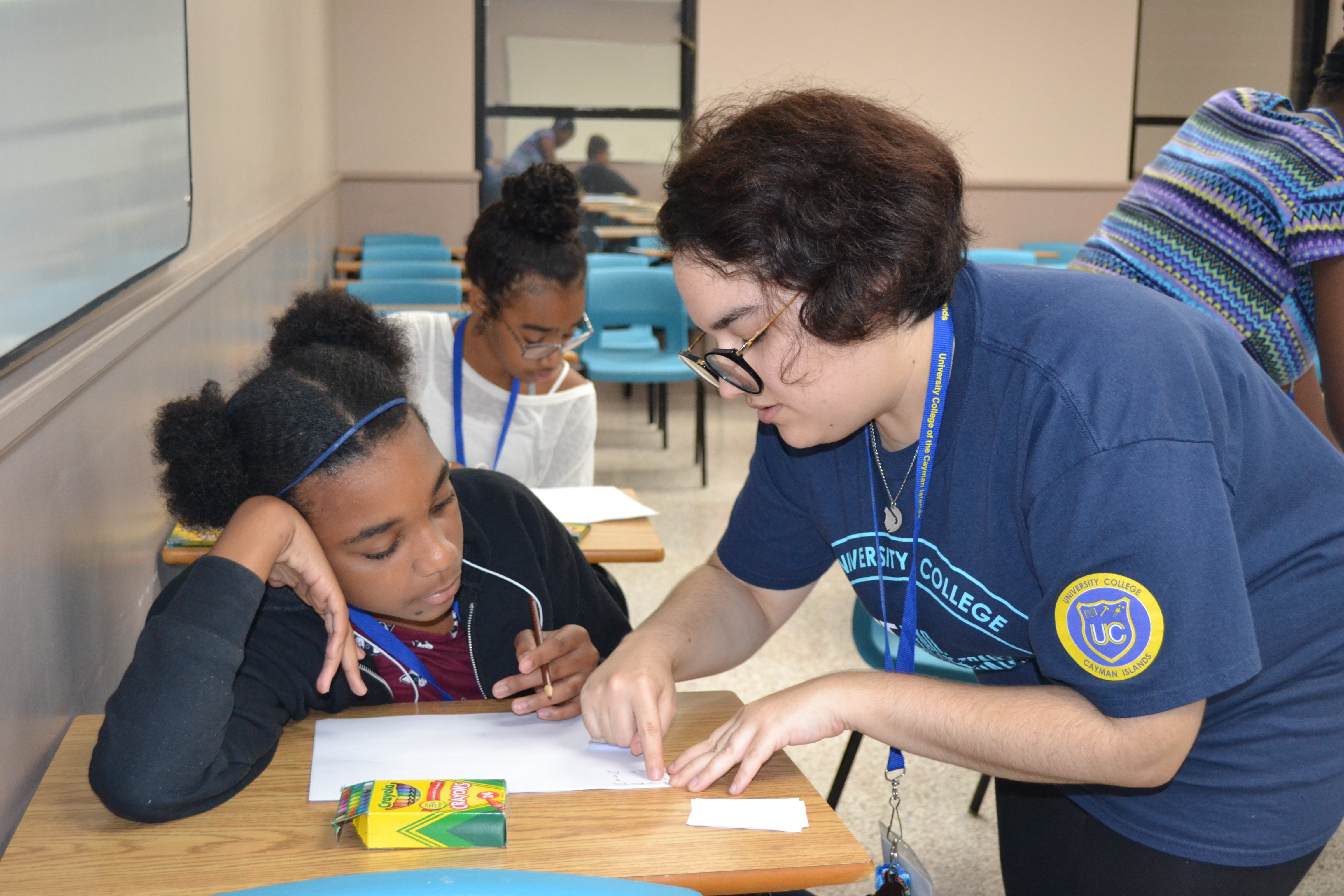 Meet CEC's First "Summer in the City" Intern Thalia Rego-Ramos
The Cayman Enterprise City (CEC) "Summer in the City" programme has been running for six years. Offering countless students high-impact internships and mentorship opportunities within Cayman's special economic zones. These sought-after placements have given Caymanians and residents of the Cayman Islands the opportunity to work alongside some of the worlds top technology experts as well as CEC's growing team of tip-top professionals.
After six years, we thought it apt to scout out CEC's first ever "Summer in the City" intern and find out what she's up to now. With no further introduction, meet Thalia Rego-Ramos –
CEC: Thalia, tell us, what have you been up to?
I am currently finishing up my Bachelor's in Computer Science at the University College of the Cayman Islands (UCCI) and working in the UCCI Marketing Department. I recently created the university's website (www.ucci.edu.ky) as well as the STEM Carib Conference's website (www.stem.ky). I'm focusing on website and graphics work as well as assisting with UCCI events.
We recently hosted the STEM Carib Conference at the UCCI Campus from October 9-12. I've been a volunteer for the past three STEM Conferences and this was the biggest one yet! The subject matter, Fact vs. Fiction, really sparked an interest in the attendees.
CEC: You were a facilitator at the 2018 UCCI STEM Summer Camp, tell us about the experience.
Full disclosure, CEC is the presenting sponsor of the annual STEM Summer Camp. CEC's aim is to increase the number of STEM job opportunities in the Cayman Islands and support the next generation of aspiring scientists, inventors, mathematicians, engineers, entrepreneurs, and leaders so that they may pursue innovative careers in science and technology.
I taught campers website development and had them dabble in a little bit of HTML and CSS before having them create their own website on WIX. This allowed them to design their websites quickly and easily given the time constraints. They teamed up in small groups to create a blog where they wrote about their time at STEM Camp. Each day they had about 15-20 minutes to update their blogs.
It was amazing to see how knowledgeable some of the students were even at such a young age and how excited and intrigued others were about learning something new. Seeing them collaborate and express their creativity while learning something new was very rewarding.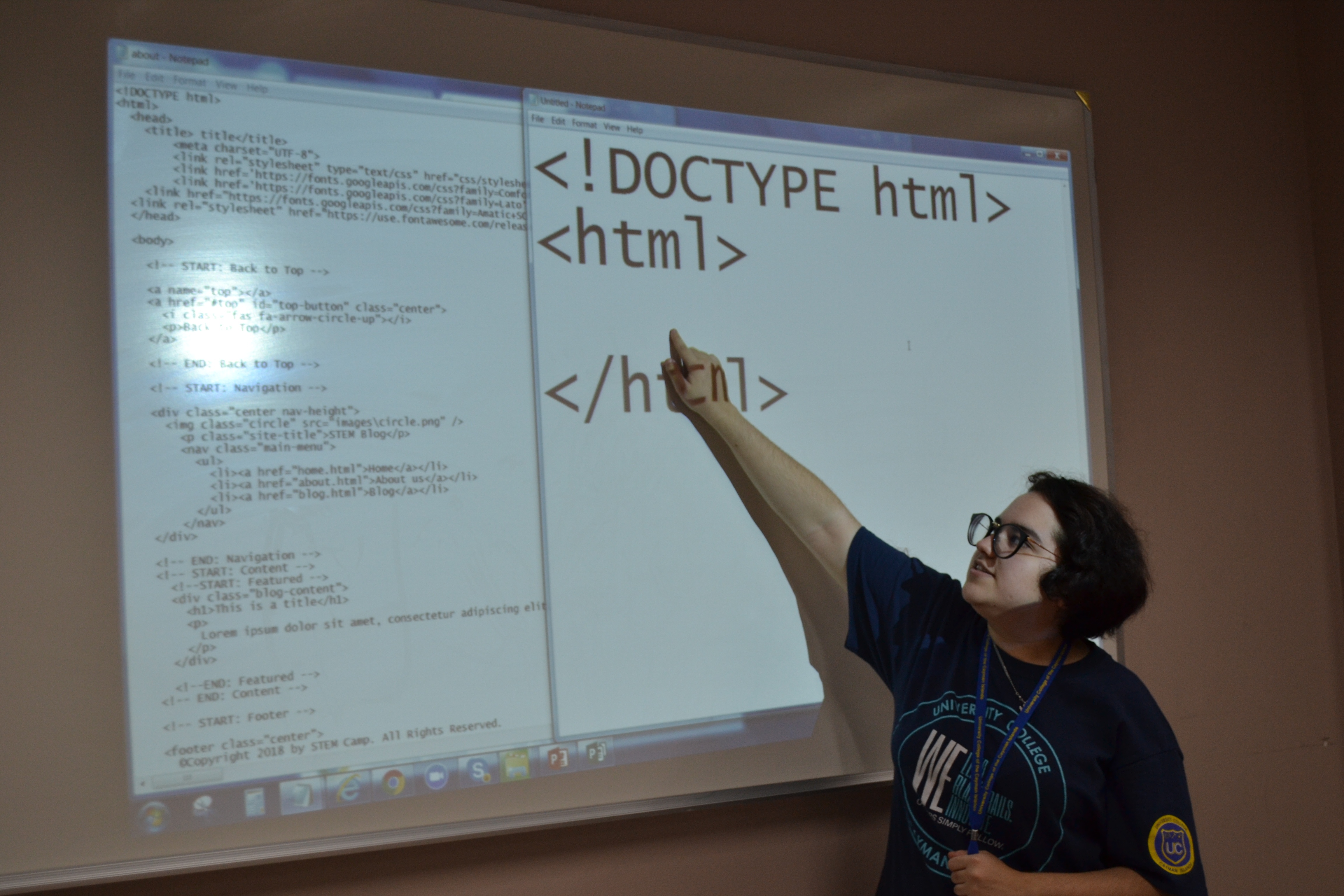 Thalia Rego-Ramos teaching students to code at the 2018 UCCI STEM Summer Camp
CEC: In your opinion, why are STEM camps like the one at UCCI so important?
Programmes like STEM Camp are so crucial because it gives youths an opportunity to explore and catch up on the latest trends in STEM. They get to learn new things in a fun and engaging way – and who knows, they might find something new that they enjoy and from there pick up a new hobby or even gain insight on what they would like to do in the future.
I think one of the most important things that programmes like STEM Camp and the CEC internship do very well is feed the inquisitive nature of Cayman's youths by exposing them to new experiences and concepts.
CEC: You interned with CEC way back in 2013. What do you remember from the experience and have you been able to apply what you learnt?
My CEC internship in 2013 exposed me to a lot of different career options and experiences. I was able to shadow several professionals from various CEC departments and got to meet with a few of the companies within the CEC special economic zone.
It was an action packed two weeks. A few of the highlights that I can remember were:
Sitting in on a meeting with CEC and IBM and seeing how a corporate meeting like this was held. This was super cool and made me feel like a really important kid back then.
Talking to a trade broker in the special economic zone. I remember he even let us spend a dollar on whichever stock we wanted!
Shadowing Caymanian architect and CEC's Chief Development Officer, Cindy O'Hara.
Getting a first look at the plans for the new CEC campus and taking a look at the CEC Flagship location as it was being built.
Sitting in on a meeting for the creation of the current CEC Website.
I also got quite a bit of marketing experience and was able to send out my own tweet on the @CEC_Cayman twitter account!
It made me realize that there are many different life and career paths one can take and still be successful and it isn't just limited to one field of business.
During that time, I was beginning to choose what I wanted to study when I left high school, and I was going to go into accounting. The internship with CEC was one of the factors that made me realize, "Hey, maybe I want to do something more technology focused, and that is just as viable as accounting."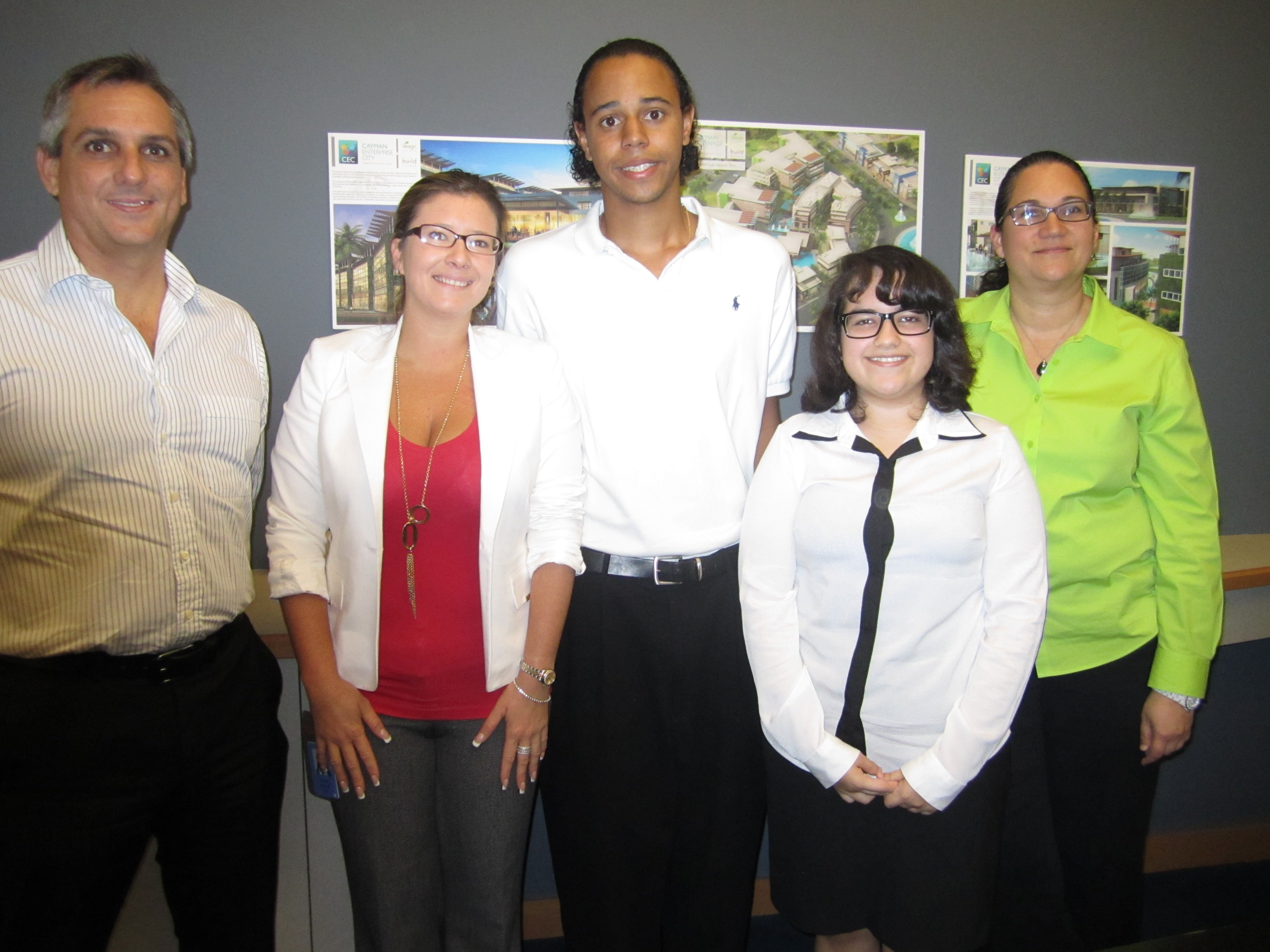 The CEC team with Thalia back in 2013. L-R; Chief Executive Officer, Charlie Kirkconnell; Client Experience Executive, Sasha Carrig; 2013 Intern, Neith Rheingold; 2013 Intern, Thalia Rego-Ramos; and Chief Development Officer, Cindy O'Hara.
CEC: Looking back on the experience, how have you evolved? Is there anything you wish you could have told your younger self before you embarked on the internship?
I wish I could tell my younger self to take a better advantage of the time surrounded by experts and to ask as many questions as possible. No question asked with the intent to learn is stupid. Being surrounded by knowledgeable people is an excellent opportunity to learn. Chances are they are very passionate about what they do and would welcome any opportunity to share their knowledge or experiences.
CEC: Would you recommend the "Summer in the City" internship programme to others?
I would definitely recommend the programme to others – it's a jackpot of knowledge and hands-on experiences. You get to meet so many people, and with so many companies within the special economic zone who are willing to help and share knowledge with you, it is an excellent opportunity to learn and grow. There is bound to be something for everyone!
CEC: What are your goals for the future? Where will we see Thalia in 5 years' time?
I have many ideas running around in my head, and I hope to take inspiration from the many entrepreneurs at CEC and speakers at the STEM Conference and take the steps to start a company from one of those ideas within 5 years' time.
Right now, I'd like to find a low impact job for my mom to do as a side income after she retires. I've been thinking about some super simple ideas:
She loves dogs – a doggy daycare.
She makes a fantastic flan and coffee – catering desserts at small Spanish-style parties.
Creating special Caymanian made handcrafts to sell online because Cayman has a tropical allure to those overseas. "Mystery" boxes have been super popular in the internet over the past months.
No idea is a bad one if you can execute it properly, have a great product and drive.
CEC: Is there anything else you would like to add?
I would like to thank CEC for becoming a staple to so many of Cayman's youths' lives and for involving the Enterprise Cayman initiative in so many of Cayman's programmes that help to enrich and educate the Island's residents. Thank you for giving me the opportunity to learn under the wing of your experts!
About the "Summer in the City" Internship programme.
The "Summer in the City" internship programme is open to Caymanians between the ages of 18-25 and lasts for one to two months during the summer months. Areas of placement include: Internet Technology, Science & Technology, Commodities & Derivatives, Maritime & Aviation Services, Client Services & Business Operations, Marketing & Communications, Urban Planning & Development. For more information email info@caymanenterprisecity.com.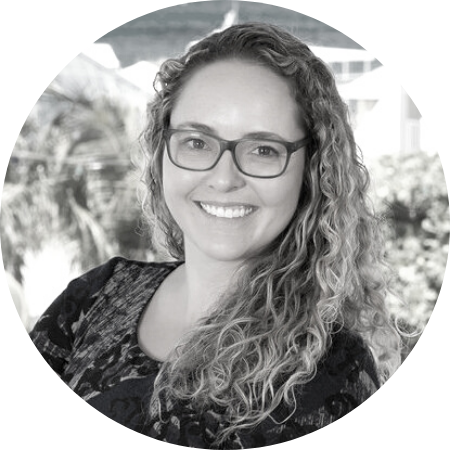 Kaitlyn Elphinstone is the Chief Marketing Officer at Cayman Enterprise City (CEC) — responsible for driving new opportunities, championing innovation, engaging members of the public, and leading the company's marketing and brand strategies in her enterprise-wide focused role.