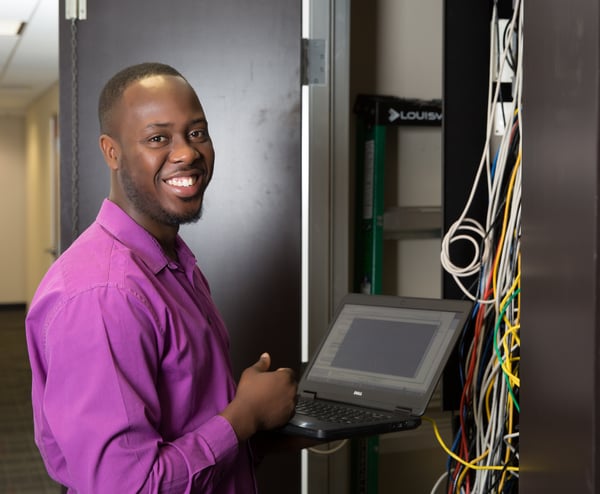 Carlos originally hails from the beautiful, neighbouring island of Jamaica and is our Client Experience Support person. Carlos is a 'loveable geek' with Bachelor's Degree with a major in Computer Science & a minor in Electronics, from the University of the West Indies.
Trained as a computer programmer, he's always had a great fascinating for software development and learnt to code quite young. At Uni, he built an application travel planner and Android App, to automate the process of travel itineraries making suggestions on things visitors you could do while in a tourism destination and the beta was Jamaica.
At CEC he provides admin support to the IT infrastructure and provides CEC community members with support in three primary areas: systems, networks and telecommunications. When new companies enter the zone and their employees arrive, Carlos is part of the on-boarding team and facilitates the IT environment including print, internet and telephone systems. If community members have additional requirements such as a private network, he helps to facilitate this also.
Carlos' colleagues say he is a gentle soul with a great sense of humour and he says what he likes best about his role at CEC is the client interaction, and getting to meet such interesting people who have equally interesting businesses, creating things such as cutting edge Artificial Intelligence, and drone technology. Carlos says he just loves helping people, as its very rewarding.
Cayman, is Carlos' second home, as his family have been here over 30 years - he has always travelled back and forth, and after college decided to live here.
"I like Cayman because my family is here and because there is a slower pace of island life. It's a very diverse place and you meet people from all over the world and from all walks of life, which makes life particularly interesting." he says.
When he's not working at weekends, you'll find him shooting hoops on the basketball court, coding or tinkering with the latest tech gadgets! Carlos shared with us that he doesn't really like to cook, but as a true West Indian, he does like to eat good food! His favourites are oxtail, breadfruit and plantains.
"If you are from overseas and haven't tried pressed plantain, I warmly encourage you to try it and other local delicacies. You slice up green plantain, fry it, press it, refry it and salt it to taste. It's simply amazing, but don't take my word for it……try it yourself" he chuckled!
Ms. Gonzales White is a Public Relations Specialist and consultant for CEC where she assists with development and implementation of the company's public relations initiatives both internationally and locally. Based in Sarasota, Florida, Adela is also a former expat who lived in the Cayman Islands for more than a decade, and she maintains close ties to the islands. This experience and connection give her special insights when writing about life overseas and CEC's relationship to the local community.