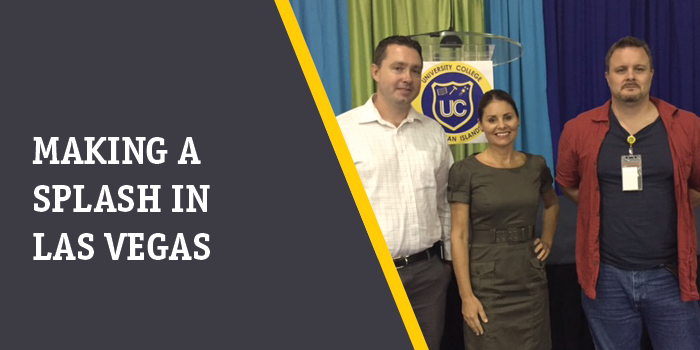 We've all heard that what happens in Vegas is supposed to stay in Vegas. But when it comes to last week's Internet Marketing Association's annual IMPACT conference, we simply cannot stop talking about it!
The Cayman Enterprise City team - and a number of CEC clients such as Meticulosity SEZC- had an amazing time and learned more than they thought possible. Plus they got the opportunity to promote the Cayman Islands and the Special Economic Zone to an idea target audience of tech entrepreneurs.

Oh, and not to pat ourselves too hard on the back, CEC won an award!

There were over 330 entrants to the IMPACT Awards and CEC's Marketing Department was delighted to win the award for 'Blog Engagement Leader' for their new blog, which is part of CEC's content driven online marketing strategy.

Not only did the CEC take home hardware, innovative e-commerce and web company Meticulosity SEZC, also won an award for Website Content for their creative work in Content Driven Design.

But those weren't the only winners to emerge from the conference. CEC and the Cayman Islands Department of Tourism jointly staged a contest to win a free vacation for four people to Grand Cayman. Because the IMA is one of the world's leading associations for digital marketers, the contest involved social media. Entrants had to grab a Cayman Islands prop such as snorkel & mask or sunhat and sunglasses, strike a pose against a Seven Mile Beach backdrop and post or tweet a selfie to their social media #cayman17entry. Cayman Airways kindly donated the flights and the brand new Kimpton Seafire Resort & Spa donated the accommodation.
The winners, a brilliant tech start-up called Scripsense.com which provides an online platform for non-profits to raise funds, said they hope to plan their trip around the IMPACT17 CAYMAN event- co-hosted by the IMA and CEC in Grand Cayman next April 27th and 28th.

"For the last 3 years we have attended the Vegas event it has grown in size and in importance," said CEC Vice President of Marketing Hilary Cahill. "And we truly believe that the Las Vegas event is the perfect complement to the IMA event we co-sponsor each spring right here in Cayman Islands."

This year's Vegas IMPACT16 conference in Vegas featured hundreds of industry thought leaders conducting breakout sessions on dozens of topics revolving around metric analysis, social media strategies, and other key concepts.

"When you bring this kind of talent - this kind of industry intellectual power - all together in one place, you can't help but learn a zillion new ideas, tactics, and strategies," said Cahill. "When it comes to the tech industry, it never disappoints; that's why we are so happy to co-host the IMA spring event here in Cayman Islands."

Beyond the serious business side, the IMPACT16 Vegas event featured a number of networking events, from the high-energy Steve Aoki show at one of the hottest local nightclubs to the more traditional - but sill fascinating - meet and greets.

"Going to Vegas for the IMPACT event was not a gamble," Cahill said. "It was a great way to showcase the Cayman Islands and CEC as the ideal place for tech companies to set up their international offices."
Hilary McKenzie-Cahill is a Cayman Enterprise City staff alumni and former VP of Marketing and Business Development. Hilary is a serial entrepreneur and a powerhouse of energy, passionate about everything she undertakes.