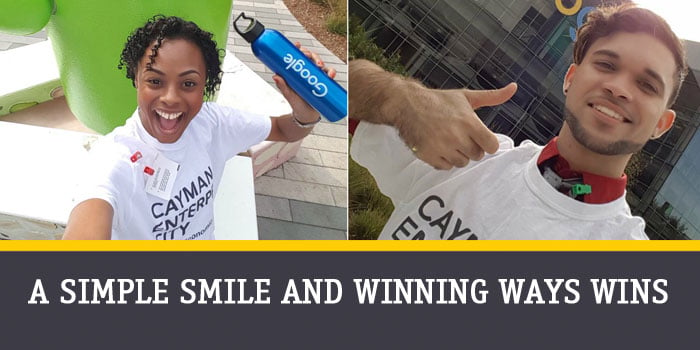 Cayman Enterprise City (CEC) has announced that ICCI student Enyer Rivers is the winner of their CEC/Google/ICCI Selfie Photo Contest. Dr. David Marshall, the charismatic President of ICCI, led a student delegation on a seminar trip to San Francisco earlier this month, including a trip to Google where the photo contest took place. The Google campus tour was made possible through a partnership between CEC and the Internet Marketing Association, and a connection with Google's General Manager of Global Business Joe DeMike, who personally toured the group through the campus, and shared insights on working at Google and some of their new exciting technologies.
With a heart-felt smile, 21-year-old Enyer Rivers, showed his gratitude in a selfie taken at Google's headquarters in Mountain View, California and won the contest sponsored by Cayman Enterprise City.
The contest called for the students to post selfies with the hashtag #ICCIGOESGOOGLE to share the experience on social media. Enyer's prize is a bag of goodies including, a gift certificate for Books and Books, a leather bound self-charging station for an iPhone, and other fun items.
"My selfie was just honestly simple - I meant my emotions with the smile," Enyer said. "I made sure I displayed the CEC shirt fully in my selfie as well as the Google sign in the background."
CEC were so impressed with all the very innovative selfie shots posted by the students, they added a second-place prize. Student, young Kassia Webb was selected as the runner up in the contest with her creative and engaging shot holding a Google water bottle.
"I thought the Google experience was just phenomenal - to see the culture of Google and its employees was just amazing. The campus sight as well was just brilliant," said Enyer, the West Bay native set to graduate from ICCI in February. "What I loved the most was the benefits that Google's employees get once employed, they make them feel literally at home at work."
The student says winning the selfie contest and getting the prize was a nice surprise, but the real prize was the profound and positive impact he got from the opportunity to watch the inner workings of the tech giant.
"It has made me think more of what I want to be in the end. To do something I love just as these "Googlers" - to be dedicated and committed," he said. "It surely made me realize that I may need to learn more about the upcoming technologies because in the future of my career I will need such knowledge to be a competitive employee/individual."
"We are very proud of our developing partnership with ICCI aimed at supporting and promoting STEM education. Young Caymanians are very aware that there are many very exciting career opportunities in STEM disciplines, including an expanding number and variety of opportunities with the Cayman Enterprise City Special Economic Zone. Through this partnership we hope to assist in connecting Caymanians with their dream jobs" said Charlie Kirkconnell, CEO of CEC.
Enyer Rivers concluded: "I believe what CEC has done shows that they care for us local students and seek the best from us to portray a bright future for the Cayman Islands. I would love for them to continue what they are doing with ICCI and bring new and more exciting things that can change careers and change people's lives".
Hilary McKenzie-Cahill is a Cayman Enterprise City staff alumni and former VP of Marketing and Business Development. Hilary is a serial entrepreneur and a powerhouse of energy, passionate about everything she undertakes.