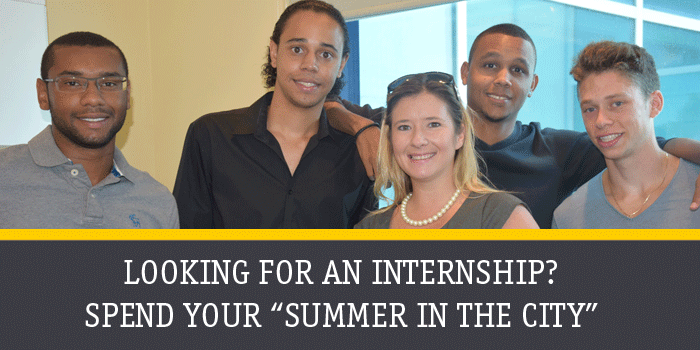 2nd June – George Town, Grand Cayman - Cayman Enterprise City (CEC), Cayman's award-winning Special Economic Zone this week announced the launch of its 5th "Summer in the City" annual internship programme. This programme provides internship places for young Caymanians in CEC through its Enterprise Cayman initiative, a partnership between CEC and the Cayman Islands Government, established to connect Caymanians with opportunities being created by the Special Economic Zone.
Every year CEC coordinates with zone companies to develop internships for students out of college or high school for the summer. The idea is to give them an internship in the true sense of the word, which provides experience and excellent learning opportunities with zone companies, while exposing the students to potential career options in technology, media, commodities, marine and aviation services and more. There are diverse internship opportunities available in the zone, but no matter which zone company students are placed with, all interns will get involved in interesting projects and meet zone entrepreneurs and business leaders in Cayman Enterprise City. In previous year's some students have gone on to secure full time jobs in the zone after completing their CEC Summer in the City internship.
If you are a Caymanian between the ages of 17-25 and would like to apply for an internship, please send a copy of your resume and a cover letter stating why you wish to spend your summer interning in the city, to Marilyn Conolly at internships@CaymanEnterpriseCity.com.