International site selection can be tricky, but if you think carefully and consider your options critically, you could end up making the best decision for your company's growth and profitability. Use these three criteria to guide your decision-making process for overseas corporate site selection.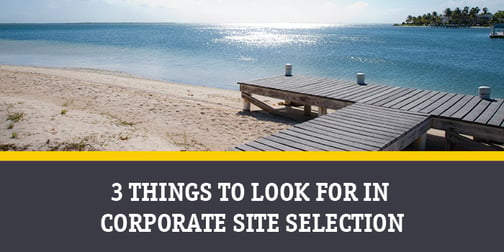 There are so many excellent reasons to consider an overseas business headquarters, but it's important to look beyond the tax incentives and business-friendly laws and consider what life is really like in a prospective location. What's the Internet speed like? Can you reliably use a cellphone once you leave your office? Where's the nearest hospital, and what kind of services does it provide? Even basic things like road quality and traffic laws are a big part of the infrastructural reality that will contribute to—or detract from—your day-to-day quality of life in your new location.
The Cayman Islands are British Overseas Territories, and when you choose Cayman Enterprise City as your site of operations, you'll have access to high-speed Internet, reliable cell service, world-class high tech amenities, and ample local talent. Plus, the islands operate proficiently, offering excellent healthcare, well-maintained public spaces, and a stable, pro-business local government to ensure a consistent quality of life in any scenario.
Of course, incentives are worth considering. Cayman Enterprise City offers an ideal balance between local infrastructure and quality of life and enticing incentives that make business operations a breeze. Cayman's tax-neutral approach means you can safely operate your business without paying corporate, income, or capital gains taxes. Businesses within Cayman Enterprise City also enjoy fast-tracked operations credentials and visas so you can hit the ground running in a month or less.
So Cayman has the infrastructure and the incentives, but don't forget about general quality of life. Excitement and adventure are major draws for a life overseas, and the Cayman Islands certainly deliver plenty of quality of life perks. If the idea of access to world-class beaches, exciting outdoor activities, and stunning scenery sounds like the ultimate recipe for a memorable vacation, imagine experiencing these perks every day. Cayman delivers all this and more as extra enticement beyond its incredibly business-friendly approach.